This article is more than 1 year old
Self-driving car supremo Anthony Levandowski sentenced to 18 months in the clink for stealing trade secrets from Google's Waymo
Yes, you read that right, an American exec is actually going to serve time... eventually. When he chooses
Anthony Levandowski, the top engineer who pleaded guilty to stealing self-driving car trade secrets from Google, was sent down for 18 months in the US on Tuesday.
Levandowski, who was sentenced by federal district court Judge William Alsup in San Francisco, must also cough up $756,499.22 in compensation to Google and a fine of $95,000. The move marks the latest twist in Levandowski's three-year legal battle with his former employer, where he worked as an engineer in its self-driving Waymo division from 2007 to 2016.
He resigned from Google to co-found Otto, an autonomous truck startup. It wasn't until 2017, after he had sold Otto to Uber for $680m, that Levandowski landed himself in hot water with the internet search giant. He was accused of walking out of Waymo with more than 14,000 files detailing its proprietary Lidar technology and sharing them with his new employer Uber, where he led its autonomous driving team after the Otto acquisition.
Fast forward to 2019, he was charged with 33 counts of theft and attempted theft of trade secrets; he pleaded guilty in March this year.
Although he was accused of sharing that information with Uber, prosecutors failed to produce explicit evidence that any of Waymo's technology had been used by the ride-hailing giant. Nevertheless, Alsup sent Levandowski to jail to prevent "someone in [his] position considering stealing trade secrets years from now."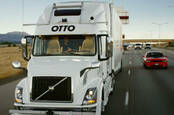 Former Googler Anthony Levandowski 'fesses up to pinching trade secrets about self-driving cars
READ MORE
Levandowski had hoped for a year of home confinement, a small fine, and 200 hours of community service, but Alsup reckoned the super-techie shouldn't be able to get away with committing a white-collar crime so easily. Prosecutors asked for a 27-month sentence.
"This was not a small crime. This was the biggest trade secrets crime I have ever seen," the judge said. "I have no doubt in my mind that the reason he stole [the documents] was just in case he needed it."
Alsup also said that "billions are in future play" in the self-driving business. "With that kind of money, good people will do terrible things. That's what has happened here."
Meanwhile, Levandowski has declared bankruptcy as he's facing a lawsuit from Google for $179m in damages.
The judge ordered the ex-Google exec to also conduct speeches to up to 200 people titled, "Why I went to federal prison," to hammer home to newbie engineers, entrepreneurs, and students the dangers of stealing trade secrets from massive tech corps
Levandowski won't be heading straight to the Big House just yet, however: he gets to pick a date for his incarceration, and it'll be sometime after the coronavirus pandemic has calmed down. The judge granted him permission to choose his "self-surrender date" when the COVID-19 virus outbreak has been brought under control, and recommended it be probably some time after February next year.
Before he was sentenced, Levandowski said he "deeply regretted" his actions: "The last three and a half years have forced me to come to terms with what I did... I apologize to my colleagues at Google for betraying their trust. I can't change what I've done, but I can learn from my mistakes." ®