This article is more than 1 year old
Clue's in the name: Samsung's next Galaxy Note line captures scrawls with responsive stylus then punts them over to a PC
It's good at taking notes. Plus: Tablet-sized foldable, ear beans, and more
Samsung has unveiled two new models of its Galaxy Note smartphone and made sure they're really good at helping you to take notes.
The new Note20 and Note20 Ultra have all the qualities you'd expect from a premium handset: bright screens, gleaming clusters of lenses that power cunning cameras, bountiful batteries and enough processing grunt to do almost any computing task at speed.
But the Note has long been suggested as the phone that gives busy people an extra productivity boost by including a stylus and note-taking application. Samsung has made its most consequential enhancements to those features. The S-Pen, as the stylus is styled, is now more responsive and works at higher resolution. The Register was able to get hands-on with a pre-release model and can report that it afforded a more faithful capture of the strokes I made on screen and has lost the ever-so-slight lag between wrist action and my scrawl appearing.
But it's the updated Notes app that really makes a difference. It's now possible to record audio while you write and, when reading a note, to tap on written text and instantly advance audio to the relevant moment. This feature will make annotating meetings or interviews a snack. The app can also reinterpret geometrical scratches as regular and symmetrical shapes – that shabby box you scrawl becomes a neat square before your eyes. It's then possible to write text in a separate box and drag it onto shapes, an elegant arrangement that made me think years of frustration trying to label items in Microsoft Word might be behind me. The app can now also develop a model of users' handwriting and learn how to convert it to typed text.
Another frustration eased is the addition of a proper Save function that lets users create custom directories to store notes on internal storage. Android has been rubbish at offering users a filesystem for years and iOS has not been much better. I wasn't able to spend a lot of time on that feature but the demo was a more-than-promising suggestion that the Note20 could make finding documents on Android far more feasible and reduce dependence on cloud storage lockers and their apps.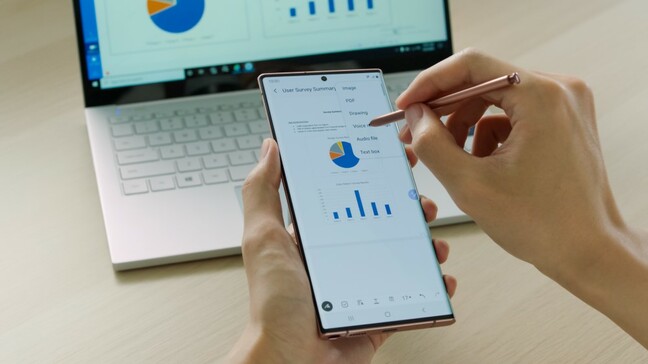 The new Samsung Notes app running on the Note20 Ultra. Click to enlarge
Samsung also promised, but did not demonstrate, enhanced integration with Microsoft's Your Phone app that syncs notes taken on the devices with PCs and can also bring half a dozen apps from the Note onto a PC's screen applications with their own windows. If the two companies have nailed this and the custom directories, the Note20 will be wonderful.
Another tantalising newbie was that the smartphone's DeX desktop mode can now be invoked without wires on newer Samsung Smart TVs and any other display capable of screen mirroring.
Samsung is positioning the Note as the phone for the pen-curious and thinks there are more folks like that out there now because pandemic-prodded work-from-home habits are driving people towards premium handsets that let them more easily blend work and play. Galaxy Note devotees are the target for the Note Ultra, with Samsung expecting that rusted-on phablet phreaks won't be able to resist its premium package.
My impression was that both are lovely handsets that will offer years of service, but that at 6.9 inches the Ultra may now be too big for trouser pockets.
Specs
The Galaxy Note20 Ultra offers a 6.9-inch 3088x1440 screen with a 120Hz refresh rate. The front-facing 10MP camera looks tawdry compared to the rear-facing 12MP ultrawide camera, 12MP telephone camera and 108MP wide-angle shooter. That's not a typo. It is one hundred and eight megapixels. An unspecified 7nm eight-core CPU at either 3.0GHz or 2.7GHz lies in the engine room. The LTE edition ships with 8GB of RAM and 256GB or 512GB of storage. Three 5G models all have 12GB of RAM and 128GB, 256GB or 512GB of storage. A 4,500mAh battery is said to go all day.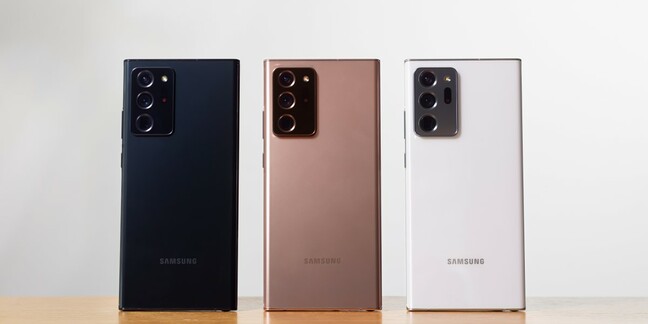 The Note20 Ultra's three lenses sit on a plinth of sorts. Samsung's official cases envelop it to prevent snags. Click to enlarge
The Note20 has to make do with a 6.7-inch 2400x1080 screen, 64MP telephoto camera plus a pair of 12MP cameras for ultra-wide and wide angle shots. The sole LTE model offers 8GB of RAM and 256GB of storage, a spec matched by the high-end 5G model. The 5G cheapie trims storage to 128GB, and a 4,300mAh battery rounds out the package.
Magic beans and the first 5G tablet
Samsung has also shown off its new "Galaxy Buds Live", earbuds that resemble large kidney beans and have no obvious means how to insert them into your ear and no features that suggest they'll stay there.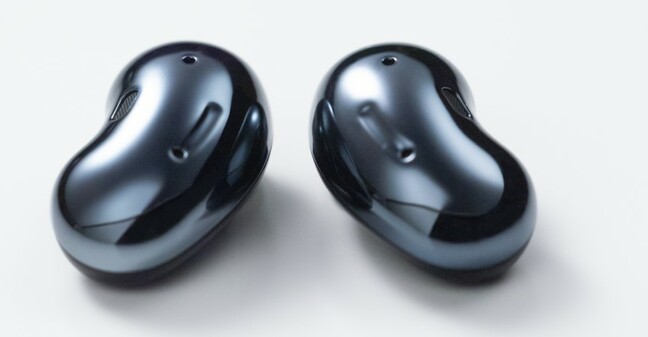 Samsung's magic beans. Click to enlarge
Company reps assured your humble hack that when inserted correctly – starting by placing the bottom of the devices in your intertragic notch and then up towards your ear canal – they'll feel right at home. The tiny devices include microphones for calls and active noise-cancelling, speakers and batteries.
Samsung has designed them to be worn all day and made sure the noise-cancelling can tell the difference between ambient noise and chat directed at wearers.
Samsung sanitised the phones and tablets I was able to use but felt it could not do likewise for the Buds so I was unable to try them on. They look marvellous.
Speaking of tablets, the new Galaxy Tab7 and 7+ are refined and impressive. A most useful addition is the ability to extend the screen onto an external monitor and to have the DeX desktop appear on that peripheral because to my mind it means users won't be confined to one work style. There's also an impressive keyboard, a stylus is now standard and everything zips along. There are 11 and 12.4-inch options.
5G is baked in and Samsung claims the new devices are therefore the world's first tablets to include that standard.
In the 15 minutes I spent with the Tabs I felt that their implementation of Android has bent more towards the needs of a tablet user, but may not yet be as refined as Apple's efforts.
All of the above-mentioned gadgets play nice with the new GalaxyWatch 3, which has been made thinner and lighter. In Korea, Samsung has secured approval for the device's use as a blood pressure monitor. The company is seeking the same certification elsewhere. While we wait for that, the company has packed in 120 exercise programmes from notable fit people and ensured the watch will gently encourage you to perform at your best.
And for my final trick, a folding fondleslab?
By now Reg readers will probably have realised that we were given access to these devices before Samsung's big global launch, but only after taking dire oaths that we would not blab before that event. And as we prepared this story under the time constraints Samsung imposed, the company revealed that it will also announce something called the "Galaxy Z Fold2" in 6.2 and 7.6-inch flavours to fold out into something about the size of a tablet.
No further details were made available.
The Note20 and Tab7 ranges will go on sale from 21 August.
The Register has only seen Australian prices so far. US dollar and Sterling prices are typically two thirds of Australian prices.
The prices are:
Note20 Ultra 5G AUD$1,999 to $2,199 depending on memory;
Note20 Ultra 256GB $1,849;
Note20 5G $1,649;
Note20 $1,499;
We're yet to see prices for the Tab7, Buds, Watch or folding fondleslab. But The Register will update this story as those prices emerge. ®