This article is more than 1 year old
Greatest crossover of all time: Microsoft, Samsung preview Android on Windows via Your Phone app
Continuum reborn? Not quite, and some features are Sammy-only for now
Microsoft and Samsung have previewed Android apps running on Windows – or appearing to, since the apps actually run on a connected smartphone, but are viewed and controlled from the PC, a technique called app streaming.
Famously, Redmond has canned Windows Phone, but it still wants a presence in mobile, and Android is its best chance, given that it has a more open ecosystem than Apple's iOS. The company has its own Android device set to launch later this year, the Surface Duo, but also has a partnership with Samsung to integrate Galaxy smartphones and tablets with Microsoft 365 and Windows 10.
Samsung's Link to Windows, combined with Microsoft's Your Phone application, already lets users mirror a phone to the desktop OS so you can operate it with keyboard and mouse. There is also cross-device copy and paste. At yesterday's virtual Unpacked event, the two companies announced the app-streaming extension to this integration, which gives a look and feel of running the apps on Windows as opposed to controlling the phone remotely.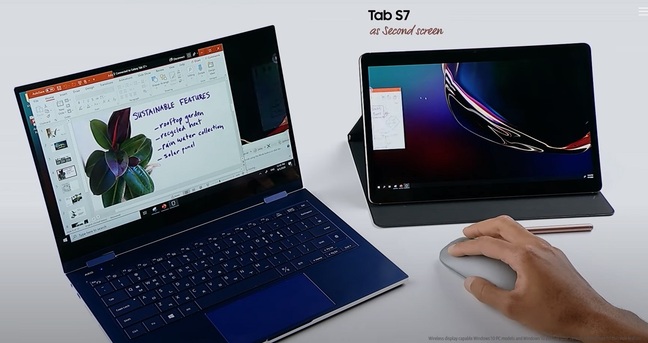 Users will be able to use the forthcoming Galaxy Tab as a second screen for Windows 10
One potential snag: audio from the apps will play back on the phone, not on the PC. However, there is a handy extra capability. Users can run multiple Android applications in separate windows, as demonstrated at the event by Microsoft communications manager Phillip McClure, though this capability "will roll out later in the year", according to the detailed description. Android apps can also be pinned to the Windows taskbar. This is on top of the usual Your Phone capabilities (which work with any Android device): access to photos, messages, notifications and calls.
Another integration feature, briefly shown at Unpacked, is the ability to use the forthcoming Galaxy Tab S7 as a second screen for a Windows 10 PC.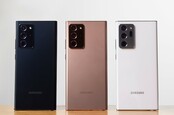 Clue's in the name: Samsung's next Galaxy Note line captures scrawls with responsive stylus then punts them over to a PC
READ MORE
Microsoft 365 users will be able to synchronise Samsung Notes with OneNote, and Samsung Reminders with Microsoft To-Do. Outlook Mobile will run on Samsung Galaxy watches.
On the gaming side, the two companies also said that Samsung Galaxy will support streaming Xbox games with Microsoft's Xbox Game Pass Ultimate – a subscription to Microsoft's gaming platform. Game streaming is not exclusive to Samsung: a couple of days ago, Microsoft said that this feature, in beta from 15 September, will work across all Android devices running Android 6.0 or higher, Bluetooth 4.0, and with a mobile Wi-Fi or data connection of 10Mbps download speed or higher.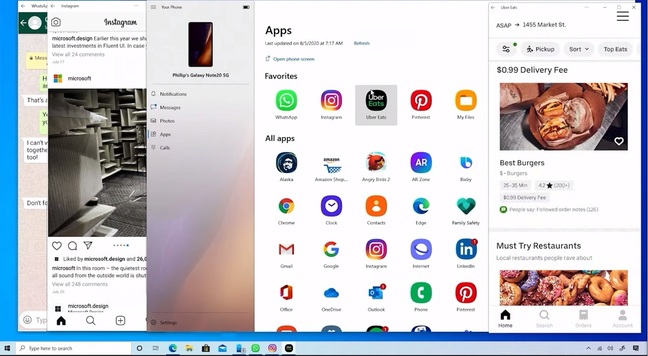 Microsoft showed multiple Android apps running in separate windows, though still phone-shaped
Some of the new features recall Microsoft's efforts with Continuum, still the subject of a pretty website despite the abandonment of Windows Phone. Continuum exploited the Universal Windows App concept, in which apps running on the phone would scale nicely to run on a large PC display. Continuum gave users the option of using the smartphone as a primary computing device, while still taking advantage of keyboard, mouse and full-size screens.
Integration with Android still falls short of that concept, though for users whose documents and data are cloud-hosted, the idea of a primary computing device should no longer matter.
Partnership with Samsung is all very well, but owners of other Android brands will not want to miss out on major features. It seems unlikely that Microsoft's own Surface Duo, for example, will fall short of Samsung in this respect, even though the current list of supported devices for Link to Windows is, for now, exclusively Samsung. ®