Just like when you 'game over' two seconds into a new level... Facebook launches Gaming app without games on iOS
Zuck, Google, Microsoft platforms barred from Apple's iOS software souk
Facebook, Google, and Microsoft – suspected or convicted monopolists – are being thwarted from offering their respective game services by another tech giant facing scrutiny for anti-competitive behavior: Apple.
The Facebook Gaming app launched for iOS on Friday without any games. The reason, Facebook says, is that Apple won't allow so-called Instant Games, JavaScript-based distractions that run within the Facebook Gaming iOS app.
"[F]or FB game developers and players... we have some bad news," the antisocial network said via, er, Twitter on Friday. "After months of submissions and repeated rejections by Apple, we've had to remove Instant Games entirely from the standalone app."
"Citing App Store guideline 4.7, Apple rejected the app claiming the primary purpose of the Facebook Gaming app is to play games," Facebook, which doesn't even enforce its own content rules consistently, continued. "It's not. About 95 per cent of app activity on Android is from watching livestreams. We shared this stat with Apple, but no luck."
Under section 4.7, web-based apps (which is what Facebook Gaming apps are) must either be free or paid for via Apple's in-app purchase system – Apple doesn't want other companies operating e-commerce stores within its App Store. There is an exception for "reader" apps that allow users to consume content purchased elsewhere through iOS apps for audio, video, or news subscription services. But even these must not use a purchasing mechanism within the app other than Apple's in-app purchase system.
Facebook, right now being investigated by America's Federal Trade Commission for potential anticompetitive behavior, said it appealed under the new app review process announced at Apple's Worldwide Developer Conference in June but didn't receive a response.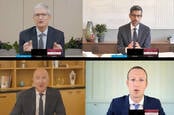 At historic Apple, Amazon, Facebook, Google CEOs hearing, congressmen ramble, congresswomen home in on tech market abuse
READ MORE
At the same time, Pat Walshe, a privacy protection consultant who just joined Brave Software as its data protection officer, pointed out that Apple may also believe that Facebook Gaming violates App Store guideline 5.1, which focuses on privacy. "If it's the same as the Facebook Gaming app on Android, maybe Apple has some genuine questions about how Facebook is obtaining consent for ad-related trackers," Walshe said via Twitter.
The barrier to App Store entry is similar for Google and Microsoft. Neither are able to offer iOS clients for their respective cloud gaming services, Stadia or Project xCloud, the latter of which launches September 15 for Xbox Games Pass Ultimate subscribers on Android. The situation appears to be similar for Nvidia's GeForce Now service.
The reason these services have been denied access to iOS is that Apple insists on reviewing all apps in its App Store, and it would be unable to do so for titles running within the Stadia or Project xCloud client apps.
Apple did not respond to a request for comment though it has said as much in one of its selectively distributed statements to favored media outlets. Apple CEO Tim Cook defended his tech titan's App Store before a House Judiciary Committee subcommittee hearing on competition among high-tech firms last month.
The Register asked Google to comment but the ad goliath declined. Google is under antitrust scrutiny by every US state but Alabama, and also by the Uncle Sam's Justice Department, which is reportedly preparing a complaint. It has been subject to three antitrust investigations in Europe related to its AdSense and Shopping businesses and its Android mobile operating system, and it faces another probe related to its Fitbit acquisition. The mega-corp has been found guilty of anticompetitive behavior in the AdSense and Android investigations, and fined more than €8 billion.
Microsoft has made no secret of its desire to see Apple's restrictions relaxed. In June, Redmond president Brad Smith suggested that Apple's App Store rules are more anti-competitive than the behavior that got Microsoft in trouble with the US Justice Department in the 1990s.
In a statement provided to The Register, a Microsoft spokesperson said, "Unfortunately, we do not have a path to bring our vision of cloud gaming with Xbox Game Pass Ultimate to gamers on iOS via the Apple App Store. Apple stands alone as the only general purpose platform to deny consumers from cloud gaming and game subscription services like Xbox Game Pass. And it consistently treats gaming apps differently, applying more lenient rules to non-gaming apps even when they include interactive content."
Microsoft's spokesperson said that the company's games get rated for content by independent ratings organizations, and that it wants to find a way to bring its cloud gaming service to iOS.
That's going to require a less controlling Apple or government intervention. ®