We've reached the endgame: Bezos 'in talks' to turn shuttered department stores into Amazon warehouses
Gutted Sears, JC Penney locations could become 'fulfillment centers'
Amazon is reportedly in talks with realtors to buy and remake the US locations of bankrupt Sears and JC Penney into Amazon fulfillment centers.
The Wall Street Journal cites sources familiar in reporting that Simon Property Group, a commercial retailer specializing in mall locations, was in talks with the Bezos' bunch to sell the now-vacant department store buildings. These will then be used as smaller, local versions warehouses for Amazon to store products before shipping out to customers.
Neither Amazon nor Simon Property Group responded to a request for comment on the report.
Those unfamiliar with the 1970s-1990s heyday of Sears and JC Penney will be forgiven for not understanding just what a seismic shift this deal reflects in American society. It is basically the equivalent of vanquishing your foe and turning his or her castle into horse stables.
During the rise of the shopping mall in the US, massive buildings owned by both chains would serve as so-called anchor tenants for most malls, bringing in shoppers who would then also frequent the other, smaller stores clustered nearby. In smaller towns, the buildings would even become part of the skyline and serve as a hub for social life, particularly for teenagers.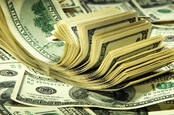 Amazon's coronavirus symptoms: Swelling of the profit, large sales deposits, insatiable demand
READ MORE
Of course, the popularity of both chains, and malls at large, has crashed in the 21st century as online shopping and social networking have wiped out public interest in congregating at shopping malls. The sprawling concrete caverns are mostly a thing of the past in the US, though they do remain popular in other parts of the world.
Similarly, as the malls have gone, so too have both Sears and JC Penney. Both chains made unsuccessful bids to enter the online shopping world which ended in bankruptcy proceedings – Sears in 2018, JC Penney in 2020.
What remains of both companies are largely in the domain of real estate, as they try to figure out ways to repurpose the huge brick and mortar shops. Some places have even proposed converting them into housing.
Amazon, meanwhile, having nuked and paved over a large area of the retail sector, now finds itself with a logistics problem: it needs more warehouses "fulfillment centers" to get its packages out as it aims to slash delivery times down to hours for some areas of America.
The report doesn't say quite how many shops may be bought up by Bezos and co in any deal. But we'll bet that there are more than a few people at Amazon who see the funny side of the final takeover of stores that mocked it in the early days. ®