This article is more than 1 year old
Publishers signed up to Apple's premium News may be less than 'appy to discover the iGiant snatching readers
Safari links redirected by default into Cupertino's walled garden
If you click on a link to an article in Safari, you may find Apple's News app pops up and opens the page rather than the browser.
This occurs only for Safari users who happen to be Apple News+ subscribers and have not disabled this option, which appears to be the default in the subscription service's settings, and if the link goes to a publisher participating in Apple News. Also, you must have a beta version of the News app installed, and be running macOS 11 Big Sur or iOS 14.
The unexpected behavior was noticed and documented on Monday by Tony Haile, CEO of Scroll, a service that provides news articles stripped of ads and tracking codes in exchange for a subscription fee it shares with publishers.
Woah, I wonder how many publishers in Apple News+ realize that the new iOS14 and MacOS Big Sur are by default intercepting traffic to their sites and sending it to the Apple News app instead. pic.twitter.com/k4PQG9mE7M

— Tony Haile (@arctictony) August 10, 2020
The Register asked Apple to explain what's going on, though we're not really expecting any response.
According to Haile, the change means Apple's effort to promote Apple News as a separate channel for publishers is no longer true. "This directly cannibalizes a publishers' core subscription audience," he said.
He argued it also undercuts Apple's practice of blocking cross-site tracking in Safari. "In this case, not only is Apple engaging in cross-site tracking, but is doing so as a default opt-in buried in the settings," he said.
Apple, said Haile, is making an effort "to move user behavior from a web that they don't control to an app where they do."
In terms of revenue, publishers participating in Apple News swap revenue from adverts with a cut of Apple News+ subscription fees, and from ads, if any, run through Apple's Workbench tool. Haile contended Apple News doesn't compare favorably in terms of revenue to direct publication subscriptions.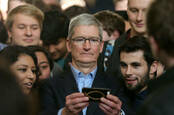 Apple on 2020 so far: OK, so iPhone sales are a bit glum. Wearables, music, apps, vids to the rescue... almost
READ MORE
During Apple's Q2 2020 earnings call in April, CEO Tim Cook said Apple News had reached 125m monthly active users without disclosing how many have signed on for the $10/month Apple News+ subscription.
Apple News did not perform well enough to keep the New York Times from abandoning the service in June.
Tom Coates, co-founder of Verse Communications, maker of the Planetary decentralized social network, told The Register news publishers generally make more money when someone visits their website than they do from news aggregators. But news consumption, he said, is increasingly happening in places other than the web.
Coates expressed concern that this setting appears to be a default. "The general principle, well known in design and tech circles, is that only a minority of people generally turn off defaults," he said. "I would argue it's probably not sufficiently disclosed or clear as a result."
He also observed that it's not obvious how the Apple News app's link interception interoperates with other deep linking schemes in iOS that might open a web link in a publisher-specific app.
Apple News also poses a problem for mobile Safari users who wish to subscribe to an RSS link: It's configured to handle RSS links – and Apple News publishers can create RSS channels – but the app returns an error if an individual tries to subscribe to an RSS link provided by a website. And there's apparently no way to set another app on iOS as the default RSS handler. ®