This article is more than 1 year old
Brit bank Barclays probed amid claims bosses used high-tech to spy on staff, measure productivity
Now that's a stretch: 'Work Yoga' memo tells folks to ignore calls, emails to 'stay in the zone'
The British offices of Barclays Bank are under investigation over allegations that managers spied upon their own staff as part of a workplace productivity improvement drive.
Back in February, the bank trialled tracking software to detail the amount of time employees spent at their desk, as revealed by City AM.
Last week an employee received a "work yoga" assessment on their daily performance informing them they had spent "not enough time in the Zone yesterday," the City paper reports. The report recommended: "Tips: mute the phone, disable email/chat pop-ups, avoid breaks for 20+ minutes, 2–3 times a day."
A spokesperson for the Information Commissioner's Office told The Register today: "We have an ongoing investigation relating to Barclays' alleged use of employee monitoring tools."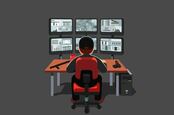 If you want a vision of the future, imagine not a boot stamping on a face, but keystroke logging on govt contractors' PCs
READ MORE
"People expect that they can keep their personal lives private and that they are also entitled to a degree of privacy in the workplace.
"If organisations wish to monitor their employees, they should be clear about its purpose and that it brings real benefits. Organisations also need to make employees aware of the nature, extent and reasons for any monitoring."
The bank was reportedly using software from Sapience Analytics to monitor how long staff were spending at their desks. It was alleged to have introduced the surveillance tool so managers could target individual workers.
An office rebellion reportedly prompted Barclays to halt the monitoring and inform the ICO.
The referral was said to have been made over a potential breach of data protection laws guaranteeing employees a degree of privacy in the workplace.
Such privacy-busting moves are not exclusive to Barclays, however. In 2011 Microsoft went as far as applying to patent employee monitoring tech, on the grounds that making staff more trusting of their employer was cheaper than a pay rise and enabled the filtering out of "undesired behaviours".
Also in America, in 2018 a woman sued her employers claiming that a biometric clocking-in system that consisted of a fingerprint scanner infringed local laws in the US state of Illinois: her fingerprints were allegedly transmitted to the fingerprint scanner manufacturer.
Just last month, Barclays was left red-faced after it was caught using the Internet Archive's Wayback Machine as a CDN for seemingly critical JavaScript. ®
Bootnote
The breathless reporting of the news by the Telegraph might be seen by some as rather brave amusing; in 2016 the newspaper itself faced a staff backlash after installing employee-monitoring devices in its own newsroom, allegedly to reduce energy usage.