This article is more than 1 year old
Huawei Matebook X Pro 2020: Nothing too crazy but at least it's more fixable and cheaper than comparable Apple wares
Which might help convince your stingy purchase manager
Review The 2020 Huawei Matebook X Pro faithfully follows its predecessors in form and function. At its heart, it's a well-rounded but pricey ultrabook. No new ground is broken, but the Matebook X Pro gets the fundamentals right.
Poking around, you spot the occasional delight. The inclusion of a standard USB-A port is hugely welcome – although the absence of built-in Ethernet may be a source of frustration for some business users. Most connectivity comes via the two USB-C ports on the side.
Open it up and you'll spot a large trackpad located underneath one of the best ultrabook keyboards out there. There's plenty of travel, and the keys are well spaced. Flanking the keyboard are two powerful speakers, while the nearby power key doubles as a fingerprint reader.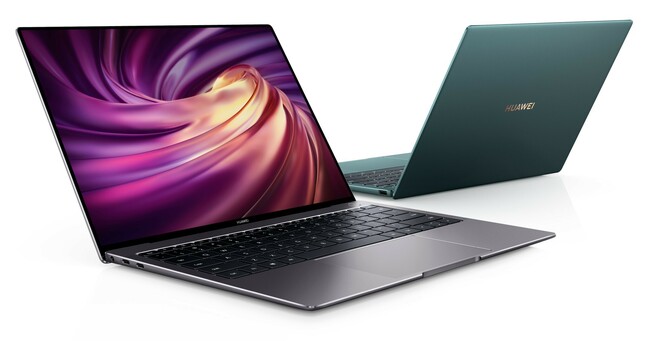 The display is a gorgeous 13.9 inches, surrounded by improbably thin bezels. This uses the same 3:2 aspect ratio, which is great for multitasking, and Slack and Word can co-exist on the same display without feeling especially crowded.
Those tiny bezels come at a cost, however, as the webcam is based within the function keys. Pressing a button between the F6 and F7 keys pops the webcam up. This positioning means that it's perennially fixed towards your chin — "the reverse MySpace angle". Given the current reliance on videoconferencing, this might be somewhat of a concern.
One feature that gives the MateBook X Pro an edge is the addition of a 10-point multitouch touchscreen. This supports gestures, like pinch-to-zoom, but accumulates fingerprints like crazy. Sadly, you can't rotate the display 180 degrees to turn it into a tablet for in-bed Netflix binges. The review unit provided came with a 10th-generation Intel Core i7-10510U and 16GB DDR4 RAM. There's also a GeForce MX250 graphics chip.
Artificial testing produced the results you'd expect from those specs. Running GeekBench 5 gave the Matebook X Pro a score of 1,131 for single-core performance and 3,687 for multi-core performance. That's roughly on-par with the equivalent Dell XPS 13, and leagues ahead of the 2020 MacBook Air.
For the sake of completeness – and knowing that someone, somewhere may want to use the GPU for work-relate tasks like building neural models – we ran the Geekbench Compute Benchmark on the MX250 GPU, using the OpenCL API. The Matebook X Pro scored 9,360, which is significantly higher than what you'd get with bog-standard integrated graphics, but a far cry from the score inevitably produced by a beefy Nvidia Quadro card.
Finally, we finished off with Cinebench R20, which is a good barometer for determining the rendering capabilities of a computer. The Matebook X Pro scored 1,039 here.
As you'd expect from a biz laptop, there's very little bloatware. One exception is the inclusion of Huawei's own mobile tools, allowing you to transfer files and content from your own devices. Since Huawei's phones are possibly going to represent an ever-shrinking part of the smartphone market in the West, this is something of a white elephant.
One area where the Huawei Matebook X Pro wins serious points is in terms of repairability – which isn't something you can take for granted with ultrabooks. To access the laptop's innards, you simply need to remove the backplate. This is affixed with eight #4 TORX screws, and pops off with a plectrum.
Once you're inside, you'll notice most of the components are screwed in with regular Philips screws. This makes it straightforward to perform basic laptop maintenance tasks, like removing dust and applying fresh thermal paste. Internal storage is bog-standard M.2 NVMe, which contrasts wildly with the Apple world, where components are soldered to the logic board, and screws use different formats and driver sizes.
The model reviewed by The Register retails at an eye-watering £1,699.99. If you buy it straight from Huawei, they'll throw in either a free mouse or a Wi-Fi hotspot.
For those with stingier purchase managers, there's also a version using the less powerful Intel i5-10210U. This keeps the Nvidia MX250 graphics card, but comes with half the internal storage, and retails at £1,399.99. In comparison, Apple will sell you an i5 MacBook Pro with 16GB RAM, 512GB storage, and Intel Iris graphics for £1,799.99. This comes with four Thunderbolt 3 ports, but lacks the dedicated USB-A port of the Matebook X Pro, as well as the overall serviceability (we wouldn't recommend anyone buys a Mac right now, given that Apple Silicon is just around the corner, but that's by-the-by).
If you'd rather stay within the Wintel sphere, you can always look at the Dell XPS 13 line. A roughly equivalent machine (albeit with an i7-1065G7 and no dedicated graphics) will set you back £1,749. ®