In brief Behold, Microsoft has dropped the black veil on a new Windows 10 build and some Android fun for Insiders.
Microsoft kicked off last week with an initially relatively ho-hum Dev channel update for its army of unpaid testers, the Windows Insiders, in the form of build 20185.
The gang has made DNS settings a little more accessible this time around as well as making DNS over HTTPS (DoH) configurable from within the Settings app. It has also shunted the 3D Viewer app into the Windows Accessories folder.
However, lurking within the update was news to set many a fanboy heart a-racing: Android apps running on the Windows 10 desktop courtesy of Your Phone.
Your Phone has become quite the handy tool, at least as far as Android users are concerned (and usually those with Samsung devices.) Features such as messaging, notifications and screen viewing have crept in over the months and the latest, which pops an app out into its own window (pinnable to the Start Menu or Taskbar) is, at first glance, hugely useful.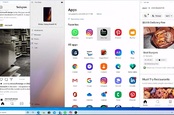 Greatest crossover of all time: Microsoft, Samsung preview Android on Windows via Your Phone app
READ MORE
Alas, there are catches. This is, after all, preview stuff and limited to Windows Insiders. Firstly, you have to have a Samsung device that supports the Phone screen feature of Your Phone and, secondly, the inability to run multiple apps at the moment does undermine the trumpeted claim of multitasking. Assuming, of course, your chosen app even allows the casting to other screens. And, er, that you aren't using an iPhone.
Microsoft does the PowerToys double-tap
As seems to be the norm for its retro-happy PowerToys app, Microsoft followed the release of version 0.20.0 of the suite of tools with a swift patch last week in the form of 0.20.1 with a few critical bug fixes.
As well as a handy colour picker, v0.20.0 had also picked up the ability to render SVG icons in File Explorer and a swathe of fixes for the handy PT Run feature. Sadly, problems with the FancyZones Windowing feature led to the discovery of more problems in PT Run. The installer also turned out to need a bit of attention, as did the whizzy new colour picker.
The gang is currently aiming at next month - September - for a version 1.0 release. The next update, version 0.21, is focused on stability, quality and localisation. Sadly for those remembering borked Windows 95 installations of old, an updated TweakUI remains off the menu for the time being.
TypeScript 4.0 reaches Release Candidate stage
The latest evolution of the JavaScript superset, TypeScript, was slapped with a Release Candidate sticker last week as the next major release version, tentatively set for later in August, neared.
While "there are no larger breaking changes than usual," according to the team, version 4.0 is packed with tweaks, including Variadic Tuple Types and speed boosts in build mode and time-to-responsiveness on larger codebases, thanks to a new "partial experience" editor mode.
PowerShell 7 comes to Azure Functions
Now Generally Available, Microsoft has acknowledged that PowerShell 6 is getting a bit long in the tooth as far as its whizzy serverless tech is concerned and added Azure Functions support for PowerShell 7.
The update allows users to develop and deploy apps using Azure Functions in production scenarios.
It has been a while. PowerShell 7 hit GA status back in March and users would be forgiven for expecting Azure Function support to arrive a little faster than it has. PowerShell 6.2 is, after all, getting decidedly close to its September end of life and while the team insists that existing PowerShells 6 Functions Apps will continue to be maintained the gang would really prefer users to move to the latest and greatest.
The ability to create new PowerShell 6 apps will be removed by Azure Functions to further nudge users into the version 7 light.
Company keen to sell AI technology emits a report insisting Blighty is behind the AI curve
Kind old Microsoft has published research showing that UK businesses use less AI than foreign competitors, and when they do, the usage tends to be a little basic.
"Companies in the UK," the company said, "will fall behind rivals from Europe, the Americas and Australia because of a lack of AI skills." The study also highlighted IDC research pointing to AI and cloud technology playing "a significant role" in the pandemic recovery.
The survey picked UK-specific data from a poll of the views of more than 12,000 people in 20 countries. It found 35 per cent of UK business expecting an AI skills gap in the next two years and 28 per cent believing one was already underway. It also pointed to 52 per cent of UK workers using AI to "work faster and smarter" compared to a global 69 per cent.
Presumably the other 48 per cent were still pleading with a chatbot to be allowed to talk to a human being. ®