This article is more than 1 year old
UK utility Thames Water splashes cash as host of IT consultancies appointed to handle £100m worth of deals
Just how 'digital' does an H2O supplier have to be?
Thames Water has turned on the project taps, awarding contracts that could be worth up to £100m to a group of 13 IT consultancies in the UK.
In deals expected to cover the water utility's five-year "Amp 7" capital investment programme, the basket of IT consultancy and services firms are named on a framework agreement expected to offer IT infrastructure, applications and architecture, according to the contract award notice.
The initial contract notice put the maximum anticipated price on the deals at £100m. The money is split between eight contract "lots" covering digital product teams; tooling to develop new data-driven analytical models, algorithms, dashboards and visualisations; and implementation of new business applications, services and associated processes, to undertake major changes to current and legacy applications and deliver associated infrastructure solutions.
Some of the contract winners were awarded on multiple lots. Those getting places on the framework are Accenture, Actica, Capgemini, CODEC-DSS, Cognizant Worldwide, The DMW Group, Equal Experts, Explore AI, PA Consulting Services, Tata Consultancy Services, Tecknuovo, Wipro and Solstice Associates.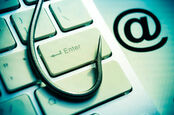 A cautionary, Thames Watery tale on how not to look phishy: 'Click here to re-register!'
READ MORE
Last year, Thames Water invested £1bn in new technology for its water and waste operations in an attempt to improve efficiency by 20 per cent. It said it was looking to help boost data management for a range of issues such as fixing leaks and getting customers to reduce their consumption.
At the time, Thames Water chief digital officer John Beaumont told the media: "We're doing this by building a digital-first water company that will deliver an ever-improving service for our customers and dramatically boost efficiency across the board."
In the arena of efficiency, there is room for improvement, as far as Thames Water is concerned. In February, Thmaes Water accepted OfWat's limits to its profits after the regulator had reported on its troubled past in water tackling leaks and pollution.
Thames Water's current five-year plan includes a migration to a new digital billing platform by the end of 2020, a digital work management platform to improve field productivity, and increasing digital sensors in its sewer network. ®