This article is more than 1 year old
America's largest radio telescope blind after falling cable slashes 100-foot gash in reflector dish
Venerable Arecibo Observatory showing its age
Pic America's largest radio telescope, the Arecibo Observatory in Puerto Rico, has been forced to shut down after a falling cable slashed a 100-foot rent in its 1,000-foot reflector dish.
On Tuesday, the University of Central Florida, which helps manage the National Science Foundation facility, said that on Monday, around 02:45 local time, a three-inch auxiliary cable supporting a metal platform above the observatory broke free and fell.
In addition to the damage to the main reflector, the cable's collapse also broke six to eight panels on the Gregorian Dome, a structure above the dish that houses sub-reflectors for focusing radiation, and twisted the platform providing access to the dome.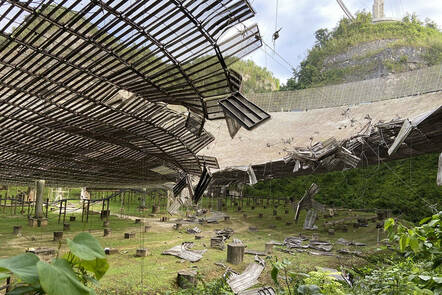 Wrecked ... the Arecibo Observatory in Puerto Rico. Click to enlarge. Source: University of Central Florida
The cause of the cable break remains under investigation. Weather in Arecibo at that time was cloudy, with easterly winds of about four miles per hour.
"We're not sure what caused the cable failure yet," a UCF spokesperson told The Register. "We are working with engineers to figure it out and come up with a plan for repairs. As we gather information and determine our course of action, we will provide updates."
In a statement, observatory director Francisco Cordova said that experts are looking into what happened. "Our focus is assuring the safety of our staff, protecting the facilities and equipment, and restoring the facility to full operations as soon as possible, so it can continue to assist scientists around the world," he said.
The UCF spokesperson said that until the cause of the break is known, it's not clear how long the facility will have to remain shut. The observatory's schedule indicates that the facility is closed for maintenance until August 26th, at least, and that it's uncertain when regular observations can resume.
The incident didn't disrupt any planned observations since none were taking place at the time, we're told.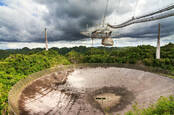 Arecibo spared the axe: Iconic observatory vital to science lives on
READ MORE
In September 2017, 108 mile-an-hour winds associated with Hurricane Maria snapped a line feed antenna, causing it to fall and damage the main dish. Repairs following from that storm are still ongoing.
The storm damage put Arecibo at risk of shutting down due to funding cuts. But UCF led a consortium to take over funding the facility in 2018.
The Arecibo Observatory, the largest of its type in the world until 2016, was completed in 1963 and has since starred in numerous scientific discoveries. In 1974, scientists used the radio telescope to spot the first binary pulsar, a find that won Russell A. Hulse and Joseph H. Taylor the 1993 Nobel Prize in Physics.
The giant radio telescope has also lent its spectacle to various film and video productions, and has helped inspire other creative projects. The iconic graphic on the cover of Joy Division's record album Unknown Pleasures (1979), for instance, was taken from a visualization of pulsar data gathered at Arecibo by radio astronomer Harold D. Craft. ®