The future of signage is here, and it wants an update
Careful with that Patch, Eugene
---
Bork!Bork!Bork! As displays become ever more complex, one constant remains. Windows will need care and attention and is liable to let the world know if it doesn't get it. Welcome to another in The Register's pantheon of Bork.
Today's victim of the curse of Windows is an innocent store in the heart of Reading, a town in the southern portion of the UK. The clothing chain in question appears to have invested in some whizzy signage technology, something along the lines of the futuristic clear glass signs now putting in appearances around the world.
The technology is undoubtedly impressive, allowing the messages of marketeers to seemingly hover in the air, with the store interior visible behind.
Alas, while the concept may bear more than a passing resemblance to the fever dreams of science fiction visionaries, the reality is firmly rooted in the here and now.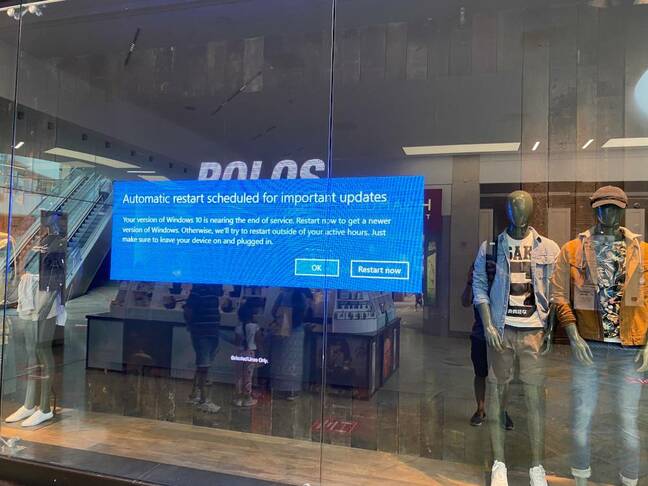 Click to enlarge
Windows 10 wants an update, and there'll be no more enticement for punters until it has had one... no matter how clever the display into which it is plugged.
Microsoft's latest and greatest is operated as a service and is only too keen to let users know when the end has come. Usually mid-way through an important presentation or just before that essential video conference.
In this instance it is suggesting that a restart out of the user's active hours is in order and has chosen to expel a honking great dialog over whatever promotions the store might have been making to do so.
Register reader Rob, who spotted the distressed display over the weekend, pondered if perhaps some patch management might be in order for the stricken retailer.
We'd simply say the future's bright, the future's here, and it wants an update. ®