Exclusive IBM has told staff across the world in all divisions it is scrapping pay rise reviews until the first half of next year due to the "considerable uncertainty" caused by the COVID-19 coronavirus crisis.
The glum news was delivered in a letter to staff on Thursday 6 August sent by Diane Gherson, senior vice president of HR, and now seen by The Register.
"The COVID-19 pandemic continues to profoundly impact the entire world," Gherson wrote. "This has created considerable uncertainty in the economic environment, leading to a disruption in normal salary cycles among many companies and uncertainty around the normal market value of skills, salary movement and pay competitiveness – key factors in our Employee Salary Program."
As apparently discussed by Big Blue CEO Arvind Krishna in his "Office Hours" internal vlog, "we will suspend our Employee Salary Program in 2020 and instead move the salary review cycle to the first half of next year," Gherson wrote. She said execs will not receive increases in 2020.
"In countries that have a mandatory statutory increases, salary increase will continue, following local legal guidelines," she added. "Salary increases for promotion and job changes continue, in addition to IBMer recognition."
Many organisations have imposed pay freezes since the outbreak of the novel coronavirus. Some, including Dixons and Capita, slashed exec pay while furloughing staff.
The virus hasn't been easy on anyone, though certain corners of the tech industry have benefited from rising demand for video-conferencing apps and collaboration suites as millions were asked, urged, or ordered to work from home to curb the bio-nasty's spread. Sales of hardware that helps folks work from their dining room tables and spare bedrooms were buoyed by the unfolding pandemic, as were cloud services.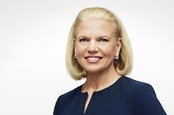 IBM's outgoing boss Rometty awarded $20m+ in 2019 for growing revenue 0.1%
READ MORE
For the six months to 30 June [PDF], IBM reported $35.69bn in revenue, down 4.4 per cent year-on-year. Cloud & Cognitive Software sales were up 4.3 per cent during the period to $10.987bn, which isn't quite keeping up with the growth spurts seen at AWS, Microsoft, and Google. Pre-tax profit was $1.57bn down 43 per cent from the year-ago $2.768bn.
IBM isn't the only enterprise IT goliath struggling in the face of COVID-19: many of the tech old guard are too, including HPE, which plans to freeze both promotions and payrises, and Dell, which is laying off perhaps up to 6 per cent of its workforce.
Big Blue hasn't grown its top line annually since 2012, which was when Ginni Rometty took the top job from Sam Palmisano. At that point, IBM employed 434,250 [PDF, annual report, page 16]. In 2019, it reported having 352,600 [PDF, annual report, page 62] on its payroll. Rometty quit this year.
In the letter to staff confirming the new pay cycles, Gherson added: "We are living in a difficult and unpredictable times where tough choices like this have to be made. And this certainly has been a tough decision. Thank you for your continued hard work and all you are doing to support our clients, each other and our company."
Last night, Big Blue's veep of corporate communications, Edward Barbini, insisted to El Reg: "There is no global pay freeze at IBM. We've invested in salary increases for promotions and other incentive programs for employees at all levels, including special equity grants." ®