After months of teasing the faithful with smug pics of its latest blower in the hands of various veeps, Microsoft whipped the covers off the Surface Duo and confirmed the date and price of the folding fancyphone.
Shipping 10 September, you can expect to pay $1,399 for the Surface Duo, with its 360-degree hinge and (if the rumours are to believed) decidedly mid-range chippery.
The word about the new gear, shared by Surface senior product marketing manager Frank Buchholz, confirmed earlier mutterings around the availability of the device, which pegged it as arriving at some point over the summer rather than nearer the holiday season.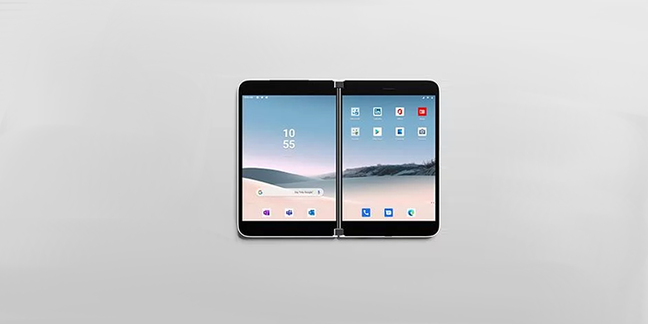 The foldable, featuring bezels that only a 2018-era phone buyer could love, enjoys a pair of 5.6" PixelSense Fusion screens which translate to an 8.1" display when opened (albeit with a honking black bar down the middle).
Besides what looks for all the world like a default Google search bar in Microsoft's post, it's the price that may raise a few eyebrows. While less than the £1,999.99 Huawei expects for its 5G Mate Xs, $1,399 puts the Surface Duo firmly into the territory of the resolutely non-foldable iPhone 11 Pro.
Those two screens certainly command a premium.
While Microsoft has yet to confirm the technical specifications of the device (Buchholz's post pointed to a bare documentation page at the time of publication), nor what storage configuration $1,399 will actually buy, we'd be surprised if the guts were anything more than last-year in Android terms, certainly when compared to the flagship devices from the Windows giant's new best buddy, Samsung.
Microsoft was also been keen to emphasise the device's enterprise chops – highlighting the in-house authorship of the firmware and its custom-engineered Unified Extensible Firmware Interface (UEFI). For those who think Android just won't quite cut it, there is also the option for "connecting to a full Windows 10 experience in the cloud with Windows Virtual Desktop". Assuming you have the requisite subscription in place, of course.
We've contacted Microsoft to find out UK pricing and availability and will update when the company has more to share. In the meantime, the fangirls and fanboys can start their engines, enterprises can begin assessing how important dual screens are for their fleets, and everyone else can formally commence the head-scratching. ®
Similar topics