Texas jury: Apple on the hook for half a billion dollars after infringing 4G LTE patents
Famed IP holder pops champers as Cupertino plots appeal
A jury in Texas yesterday agreed that Apple should cough up $506.2m in FRAND royalties for including 4G LTE capability on the iPhone, iPad, and Apple Watch without buying a licence from a group of IP holders.
Apple told The Register it plans to appeal.
In the verdict [PDF], the jury said Apple had failed to prove that any of the claims – covering five patents – were invalid.
The jury found that Apple had "wilfully infringed" the patents and that the IP holder deserved half a billion dollars in return to cover missed royalties on "past sales".
The plaintiffs, including Optis Wireless, PanOptis Patent Management LLC, Unwired Planet LLC, and other related companies, originally accused Apple of infringing seven patents by offering 4G LTE capability on its phone, tablet and the Apple Watch.
The firms claimed in their complaint [PDF] that they had tried to get Apple to take a licence, but that Apple didn't make a good-faith effort to negotiate. Apple disagreed and refused to license the standard essential patents (SEPs) on the FRAND terms Optis and pals offered it.
Fair, Reasonable and Non-Discriminatory (FRAND) terms are voluntary terms for negotiating signed up to by owners of IP if the technology is considered "essential" to perform a standard (such as 4G).
The jury found on five of the original seven patents mentioned in the complaint, including US patent numbers 8,019,332; 8,411,557; 9,001,774; 8,102,833 and 8,385,284. Regarding '284, for example, Apple was accused of including a "receiver unit for receiving a sub-frame of physical radio resources comprising a control channel signal destined to the mobile terminal". You don't get more standard-essential than that.
The IP holder has been in a similar spat with Huawei involving some of the same patents. After a $13.2m judgment that went PanOptis's way, that case was settled in February.
Nevada-based Unwired used to develop mobile software, and was known to The Reg as Openwave Systems, but no longer makes products of its own. It has been enforcing the SEPs in its portfolio for most of the past decade – even back in 2011, when it flung writs at Apple and RIM. Unwired was acquired in 2016 by PanOptis, which is in the business of "intellectual property management", and PanOptis itself was acquired by Brevet Capital in February last year, soon after it won an important case in the UK – leading some to dub it a "patent troll". We've asked PanOptis for comment.
What's all this about UK courts?
In the Eastern Texas complaint, filed on 25 February last year, the plaintiffs mentioned that PanOptis (via subsidiary Unwired Planet) was pursuing a related case in the High Court of England and Wales, which had already determined "FRAND terms including royalty rates for part of the Plaintiffs' patents with respect to another company". That company was Huawei and the hotly disputed and avidly followed case was: Unwired Planet International Ltd et al v Huawei Technologies (UK) Co Ltd and another (Appellants). It remains subject to an appeal to the Supreme Court.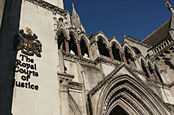 Huawei faces UK sales ban if it doesn't cough up 4G patent tithes
READ MORE
The firms confirmed in the complaint filed in Eastern Texas that they had also filed in the High Court of England and Wales regarding "Apple's infringement of certain UK patents".
What's interesting is that the US case sought damages and royalties. In the UK, the firms said they were asking the High Court to make a call on "FRAND license terms in respect of the Plaintiffs' worldwide portfolio".
As the UK Supreme court blog noted in February: "Following the judgment in Unwired Planet (vs Huawei), the High Court and Court of Appeal found that the English Courts have jurisdiction to determine the terms of a global FRAND licence, and that England is the appropriate forum."
As everyone can imagine, it has been a matter of some debate whether English courts should be setting global royalty rates.
It's not the only FRANDly game going on in the States at the moment. Just yesterday, an appeals court reversed an earlier ruling that Qualcomm broke America's antitrust laws over charging what Samsung and Apple had claimed are "inflated patent licensing fees" before they could purchase Qualcomm's Snapdragon modems and Wi-Fi controllers. ®
The case is: Optis Wireless Technology LLC et al. v. Apple Inc., case number 2:19-cv-00066, being heard in the U.S. District Court for the Eastern District of Texas.