This article is more than 1 year old
Bratty Uber throws tantrum, threatens to cut off California unless judge does what it says in driver labor rights row
CEO says making cyber-cabbies employees would be a bridge too far
Final update Uber's CEO today threatened to suspend all of its dial-a-ride services in California should a judge not grant an emergency appeal to let it continue classifying its app's drivers as contract workers.
Dara Khosrowshahi said in a telly interview that if the San Francisco Superior Court goes forward with its preliminary order requiring Uber treat its drivers as staff, the Golden State would lose all service from his company.
"If the court does not reconsider, then in California it is hard to think that we will be able to switch our model to full-time employment quickly," he said. "So I think that Uber will shut down for a while."
His comments come about a week before the aforementioned county court order [PDF] goes into effect, forcing Uber and Lyft, at least, to treat their drivers as employees rather than as contractors.
In his decision, county court Judge Ethan Schulman scoffed at the notion that the drivers were anything but the lifeblood of both techno upstarts, and as such, they should receive staff benefits.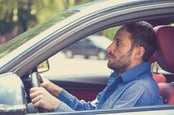 California bigwigs rule Uber, Lyft dial-a-ride drivers are employees, not contractors
READ MORE
"Defendant's insistence that the businesses are 'multi-sided platforms' rather than transportation companies is flatly inconsistent with the statutory provisions that govern their businesses as transportation network companies," the judge wrote. "It also flies in the face of economic reality and common sense."
This reclassification means Uber and other gig economy businesses must offer their app-controlled drivers and other on-demand workers state-mandated benefits, such as paid sick leave, workers' compensation, and other rights afforded to full-time employees. It would also blow a fair-sized financial hole in said software makers' business plans – ones that milk software-summoned human workers for all their worth.
It all comes down to an election
Uber, Lyft, and Doordash have backed a state ballot proposition allowing them to keep their drivers as contract workers. Proposition 22 would reclassify "app-based drivers" as contractors, and is set for a public vote in November.
That could be crucial, as Uber has filed an appeal [PDF] that would seek to delay the reclassification of its serfs until after the November polls. This would not only buy Uber time in the short run, but could lead to the whole row being tossed out if voters back Prop 22.
Now, with crunch time just one week away, Khosrowshahi is turning up the heat on the court, and making a direct appeal – some might say a threat – to California: grant us an exemption or no more rides.
Lyft, amid all this, is opting to keep its head down. The number two ride-sharing outfit did not respond to a request for comment.
There have been some concessions by Uber. On Monday, Khosrowshahi put forward a plan to allow it and other gig app services to keep their front-line workers under contract status, but offer them a "benefit fund" that would be paid for by the company and offer things like health insurance or paid time off.
"Independent workers in any state that passes this law could take money out for every hour of work they put in," the Uber boss proposed. "All gig companies would be required to participate, so that workers can build up benefits even if they switch between apps."
Voters are set to decide on the proposition on November 3. ®
Updated to add
Lyft has also threatened to cut off California along with Uber.
"If our efforts here are not successful it would force us to suspend operations in California," Lyft cofounder and president John Zimmer told Wall St analysts in a conference call on Wednesday after releasing his company's Q2 2020 financial figures. "Fortunately, California voters can make their voices heard by voting yes on Prop 22 in November."
Final update on August 13
A California superior court judge has shot down Uber and Lyft's attempt to further hold off the reclassification of their drivers. "I am unconvinced that any extension of the 10-day stay is required," Judge Ethan Schulman said on Thursday.