This article is more than 1 year old
Well, what are we waiting for? Three weeks later, Windows Embedded Standard 7 still didn't have the answer
The Register Theatre Company presents: Waiting for Windows
Bork!Bork!Bork! Sometimes Windows sits and thinks, and sometimes it just sits. Today's entry in The Register's pit of signage silage is an example of Microsoft's former finest that sums up the last few months better than we could ever hope to.
"Please wait..." Windows Embedded Standard 7 commands from a soft blue screen adorning a wall at one of the UK's medical institutions. Our reader, who spent three weeks in the place, passed the screen every day and noted: "It never changes."
Indeed, for those of us that feel like today is the 167th of March, the words "Please wait..." pretty much sum up life at the moment.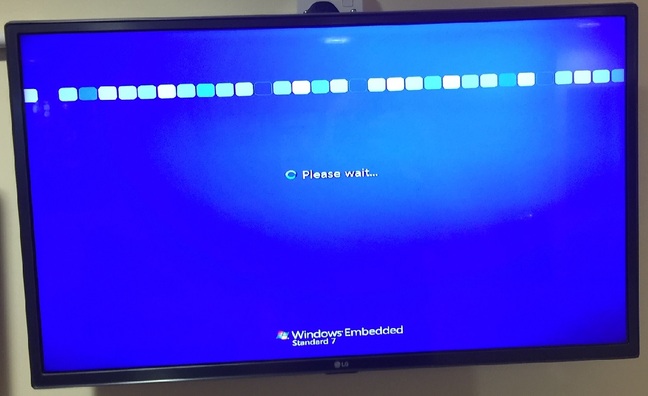 We're waiting
Windows is notable for encouraging its users to take impromptu breaks from work. Who hasn't found themselves suddenly at a loose end prior to an important work call (or online gaming session) because Windows just had to have that update?
However, 21 days does seem a little excessive – even if one was installing Windows 7 from scratch and attempting a decade's worth of updates and patches.
The wait for this instance of Windows should soon be over. Extended support for Windows Embedded Standard 7 (Service Pack 1) finally comes to an end in October 2020, unless the doubtlessly cash-strapped facility fancies spanking some additional pounds to keep that "Please wait..." showing a little longer.
What Windows is waiting for is anyone's guess. A clean shutdown, an application startup, a refresh of the natty background? 21 days waiting for Windows would cause even Samuel Beckett's Vladimir and Estragon to utter: "Steady on..."
However, in these interesting times, where life appears to be on hold and we wait to see what will happen next, it is reassuring to know that we are all indeed in this together. Even Windows 7. ®