This article is more than 1 year old
Epic Games gets itself epically banned, launches epic Fortnite death match with Apple over App Store's epic 30% cut
Google yoinks smash-hit video game from Play store, too
Updated Epic Games, the maker of Fortnite, filed a lawsuit against Apple on Thursday accusing the iGiant of illegally monopolizing iOS app distribution and app payments.
The game biz earlier in the day announced a promotional initiative called Fortnite Mega Drop to allow Fortnite players to purchase in-game virtual currency and in-game items directly from Epic, at a price 20 per cent below their iOS App Store in-app purchase price.
In doing so, Epic violated Section 3.11 of Apple's App Store Guidelines, which states that iOS developers must use Apple's payment mechanism. "If you want to unlock features or functionality within your app, (by way of example: subscriptions, in-game currencies, game levels, access to premium content, or unlocking a full version), you must use in-app purchase," the rules say.
Using Apple's in-app purchasing system to process payments means the developer turns over 30 per cent of the revenue to Apple, which is why developers have long wished for an alternative.
Apple, predictably, took action against Epic Games by booting Fortnite from the iOS App Store. And it did so immediately rather than giving the development house the usual two weeks to comply before exiling its app.
Epic, evidently having planned for this possibility, had its legal complaint [PDF] ready to file in the US, along with a rabble-rousing blog post, a social media campaign lampooning Apple's iconic 1984 Superbowl ad, and Twitter hashtag, #freeFortnite.
Epic Games has defied the App Store Monopoly. In retaliation, Apple is blocking Fortnite from a billion devices.

Visit https://t.co/K3S07w5uEk and join the fight to stop 2020 from becoming "1984" https://t.co/tpsiCW4gqK

— Fortnite (@FortniteGame) August 13, 2020
The biz has even thoughtfully prepared a Press FAQ, to make sure its arguments are properly echoed.
Epic's lawsuit, filed in a federal district court in San Francisco, claims Apple's operation of the iOS App Store violates the Sherman Antitrust Act, which forms the backbone of America's antitrust law. The complaint's goal is to force Apple to cease its "anti-competitive conduct," or in other words, end Cupertino's iron grip of its software souk.
Epic's #freeFortnite video is a riff on Apple's famous 1984 Macintosh ad depicting rebellion against an unidentified Orwellian authority who CEO Steve Jobs at the time suggested represented IBM. The game biz opens its legal argument by citing that ad in an attempt to highlight the irony of how Apple has transformed from freedom fighter to tyrant.
"Fast forward to 2020, and Apple has become what it once railed against: the behemoth seeking to control markets, block competition, and stifle innovation," the complaint says.
"Apple is bigger, more powerful, more entrenched, and more pernicious than the monopolists of yesteryear. At a market cap of nearly $2 trillion, Apple's size and reach far exceeds that of any technology monopolist in history."
Sure, we own it but...
Epic's main legal challenge will be convincing the courts that the iOS market should be considered separately from the Android market. It makes such assertions multiple times its statement of claims: "The iOS App Distribution Market is a valid antitrust market."
Apple's position is that iOS is not a market in and of itself. Rather the company suggests iOS is a part of the larger smartphone market. Defending Apple's conduct in June at a Congressional competition hearing that only served to reinforce how ill-equipped current laws and lawmakers are to address concerns about dominant tech companies, CEO Tim Cook argued [PDF] at the time.
"The smartphone market is fiercely competitive and companies like Samsung, LG, Huawei, and Google have built very successful smartphone businesses offering different approaches. Apple does not have a dominant market share in any market where we do business," he said.
That's perhaps true if the relevant market is defined at a level above the operating system. But Epic contends that Android doesn't matter for those making iOS apps.
"Apple's total foreclosure of any competition in the iOS App Distribution Market reduces the competitive pressure for Apple to innovate and improve its own App Store, leaving developers with inferior distribution outlets compared to what would exist if competition were to drive further development and innovation in the market," the complaint says.
Power move
Epic's sueball also skewers one of Apple's primary justifications for its iOS payment limitations: security.
"Apple does not require that its In-App Purchase be used for in-app purchases of physical goods and certain services that are consumed outside the app," the complaint says. "There is no security-based distinction between purchases of such physical goods (e.g., food, clothing) and services (e.g., rideshares, lodging), on the one hand, and purchases of in-app content (e.g., game content unlocks, character cosmetics), on the other."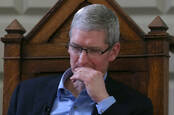 Apple won't be appy: US Supremes give green light to massive lawsuit over App Store prices
READ MORE
Epic contends that if Apple can permit Airbnb, Amazon, and Uber to process payments for real-world purchases, it can allow digital merchants to do the same. The biz goes on to challenge Apple's assertion that it has to block third-party iOS app distribution for the sake of security, pointing to how users can download and install software on macOS devices without going through the macOS App Store.
"There is no legitimate reason why the same competitive structure for acquiring software on an Apple personal computer could not safely and securely exist on Apple's smart mobile devices," Epic's complaint argues.
Epic is not alone in its discomfort with Apple. Facebook and Microsoft recently expressed their dismay that Apple will not allow the Facebook Games app and the Project xCloud app in the iOS App Store, voicing concerns that smaller developers have made for years.
Complaints from EU-based music biz Spotify have managed to get the EU in June to open a formal antitrust investigation into Apple's business practices. And the US Justice Department is reportedly preparing a similar investigation.
Deluged by developer complaints following its tussle with Basecamp over its Hey email app, Apple announced modest changes to its app review process at its Worldwide Developer Conference in June. But disgruntled devs have not been appeased. Secure comms biz ProtonMail, which railed against Apple's monopoly power at the time, applauded Epic's lawsuit via Twitter.
The Register asked Apple for comment. To our astonishment Apple replied, a sign perhaps of the pressure Cupertino is now under:
Today, Epic Games took the unfortunate step of violating the App Store guidelines that are applied equally to every developer and designed to keep the store safe for our users. As a result their Fortnite app has been removed from the store. Epic enabled a feature in its app which was not reviewed or approved by Apple, and they did so with the express intent of violating the App Store guidelines regarding in-app payments that apply to every developer who sells digital goods or services.
Epic has had apps on the App Store for a decade, and have benefited from the App Store ecosystem - including its tools, testing, and distribution that Apple provides to all developers. Epic agreed to the App Store terms and guidelines freely and we're glad they've built such a successful business on the App Store. The fact that their business interests now lead them to push for a special arrangement does not change the fact that these guidelines create a level playing field for all developers and make the store safe for all users. We will make every effort to work with Epic to resolve these violations so they can return Fortnite to the App Store.
Meanwhile, Google also yanked Fortnite from its Play software store as the direct payment system meant the web giant wouldn't receive its cut of sales, which is a big no-no. Not giving Google money is not very Googley in Google's eyes.
"While Fortnite remains available on Android, we can no longer make it available on Play because it violates our policies," a Google spokesperson said. "However, we welcome the opportunity to continue our discussions with Epic and bring Fortnite back to Google Play." ®
Update to add
Epic is now suing Google, too, after its app was booted from the official Android store.