This article is more than 1 year old
ICE to see you: Homeland Security's immigration cops tap up Clearview AI to probe child exploitation, cyber-crime
One-year deal worth quarter of a million dollars
The US Department of Homeland Security has awarded a $224,000 contract to Clearview AI to purchase "information technology components," in a deal sealed this week.
The one-year contract reveals Homeland Security's Immigration and Customs Enforcement (ICE) agency in Dallas, Texas, will use Clearview's software. Some four companies bid for the contract, Tech Inquiry, a non profit that investigates US government contracts with tech companies, spotted on Friday.
Clearview, you may recall, is the controversial facial-recognition startup that scraped billions of photos from people's public online profiles to build a database that cops and Feds can use to trace mugshots from CCTV, and other new images, back to those social media accounts.
According to the award information, ICE received four offers for this purchase order -- ultimately awarding to Clearview AI.

We therefore just submitted a follow-up FOIA for copies of each of these four offers and any emails between ICE and the representatives of these companies

— Tech Inquiry (@tech_inquiry) August 14, 2020
ICE is no stranger to using machine-learning algorithms to do its job. Last year, an investigation by the Center on Privacy and Technology at Georgetown University's Law Center the agency had quietly been using facial-recognition technology to match photos of people to pictures in state driving license databases.
"US Immigration and Customs Enforcement's use of Clearview Al's facial recognition technology is primarily used by Homeland Security Investigations [HSI] special agents investigating child exploitation and other cybercrime cases," ICE told The Register in a statement.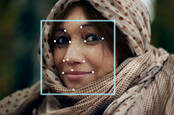 Hacker swipes customer list from controversial face-recog-for-Feds Clearview. Its reaction? 'A part of life'
READ MORE
"HSI's Child Exploitation Investigations Unit [CEIU] employs the latest technology to collect evidence and track the activities of individuals and organized groups who sexually exploit children using websites, chat rooms, peer-to-peer trading, and other internet-based platforms. To that extent, special agents at CEIU may review open-source information during the course of a criminal investigation to support the agency's investigative authorities. This is an established procedure that is consistent with other law enforcement agencies."
Clearview's CEO Hoan Thon-That also told El Reg: "Clearview AI's agreement is with Homeland Security Investigations (HSI), which uses our technology for their Child Exploitation Unit and ongoing criminal investigations. Clearview AI has enabled HSI to rescue children across the country from sexual abuse and exploitation."
That's not the only US government contract Clearview has been awarded. Last December, the Air Force coughed up $50,000 for its services.
The biz has come under fire for scraping more than three billion images from people's public social media profiles to amass a giant dataset to train its algorithms. The business is under investigation by UK and Australian government regulators,has shut down in Canada, and it's facing lawsuits in the US. ®