This article is more than 1 year old
How do you feel about single-use plastics? OK, interesting. Now tell us your views on surprise Windows updates
But please be aware this is a family museum
Bork!Bork!Bork! Everyone loves a big a screen, none more so than Microsoft's Windows, which finds the devices irresistible when it comes to splashing unfortunate messages all over them.
Today's bork comes from a reader in New Zealand named Rob who spotted Windows in need of a jolly good updating as he strolled through the galleries of the country's Te Papa museum.
Windows wants to install a feature update. "How do you feel about this idea?"
Excited? Hopeful? Worried? Angry? Don't care? As nauseous as a teenager discovering kebabs and Special Brew for the first time? All six?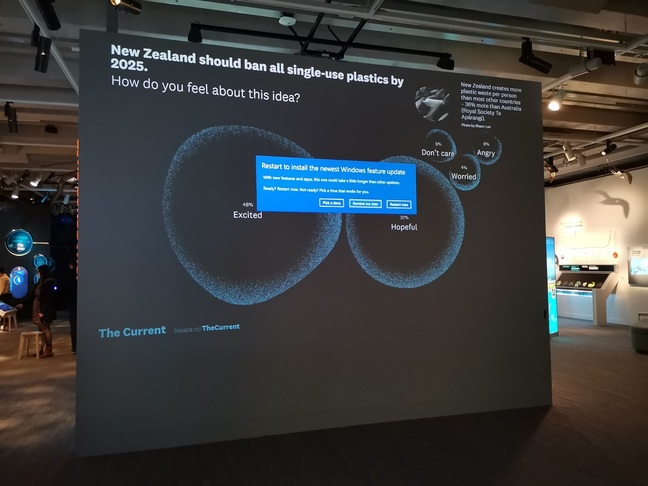 Click to enlarge
The giant screen is at once a stern finger-wagger regarding single-use plastics as well as a reminder of what can happen if one fails to manage one's Windows policies correctly. Be warned, the dialog cautions, this update could take a while. How much plastic might be generated while the cogs are turning?
The sight of borkage on display is reassuring evidence that, despite appearing to be able to manage the pandemic better than others, the Kiwis remain fallible. A shame, because Te Papa Tongarewa (Māori for "container of treasures") is a fascinating place to visit. The current museum was opened in 1998 in Wellington, and by 2015 had welcomed 25 million visitors through its doors – as well as a shonkily managed version of Windows 10.
Should one ever be allowed to darken its shores again, New Zealand has much to offer from impressive scenery to its own rocket launchpads in Mahia.
It will also, judging by what is lurking in its museum, serve up a slice of finest bork. Hopefully with mint sauce. ®