This article is more than 1 year old
CenturyLink caught trying to steal customers despite promising court it wouldn't, promises it won't do it again
Two-faced ISP gets $250,000 tickle, will be watched by independent monitor
CenturyLink has been caught trying to steal rivals' customers despite signing a court document promising it would do no such thing.
As part of gaining approval from the US government for its proposed $34bn takeover of Level 3, CenturyLink agreed in 2018 to sell some of its new acquisition's fiber networks in several metro areas to ensure there was some degree of competition in the market.
But in a settlement published [PDF] on Friday, the Department of Justice said it has since discovered that the ISP had started putting in phone calls to specific customers trying to win back their business, just two months after it signed the agreement promising it wouldn't do so for another two years.
The agreement was signed on March 2018, and in May 2018, calls to more than 70 large customers were made by a dedicated CenturyLink team dubbed the Inside Sales Channel. The sales effort continued for over 18 months until the government started investigating, and the calls to the former Level 3 customers stopped.
The line was so clearly crossed that CenturyLink has not attempted to challenge the government complaint and has agreed to its three main terms: the sales ban will be extended by a further two years; during that time CenturyLink will be scrutinized by an independent monitor to ensure they actually follow the agreement this time; and it will pay $250,000 to the DoJ to cover its costs and attorney fees.
Contact high
"CenturyLink violated the court-ordered Final Judgment designed to prevent anticompetitive effects arising from its acquisition of Level 3 Communications," read the official announcement.
"Despite provisions in the Final Judgment barring CenturyLink from soliciting customers that switched to the buyer of the divestiture assets, CenturyLink failed to comply, initiating contact on over 70 occasions over more than a year with former Level 3 customers who elected to switch to the divestiture buyer in the Boise City-Nampa, Idaho MSA. CenturyLink does not deny the United States' allegations and has agreed to the Amended Final Judgment."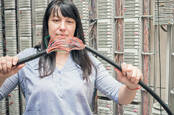 How four rotten packets broke CenturyLink's network for 37 hours, knackering 911 calls, VoIP, broadband
READ MORE
In an effort to prevent it from doing the same thing again, the original agreement has also been updated to include several new provisions. Now, if CenturyLink is caught breaking the agreement again, it "may be held in contempt," and the agreement can be extended still further.
The government will also have up to four years after the new agreement expires to go back and see if the company held up its side of the bargain.
Is a slap on the wrist enough to stop one of the largest telcos in America with over $22bn in annual revenue from trying to destroy its competition, when it was willing to pay $34bn to buy Level 3 in the first place just to do that, and then break a government contract?
Yes, of course it is because under this new agreement CenturyLink would get an even harder slap on the wrist if it broke the rules. Makes perfect sense. ®