This article is more than 1 year old
Cluster bomb: Mirantis shells out for Lens, a management system for Kubernetes
Kubernetes is too complex, so we made a dashboard for 'normal devs' says senior engineer
Kubecon Europe Mirantis, which sells a cloud platform based on OpenStack, has acquired the intellectual property rights for Lens, an open-source management dashboard for Kubernetes.
The US firm is also the home of Docker Enterprise, which it acquired in November last year.
Lens has been described as an IDE, which is somewhat appropriate given that it is aimed at developers, but also a misnomer in that it is a tool for managing Kubernetes clusters, rather than for coding applications. A comparable product is Kubernetes Dashboard, though Lens has more features including role-based access control.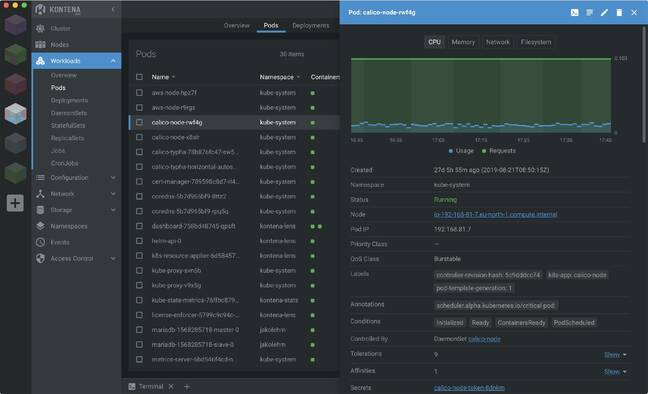 Lens is a dashboard for managing multiple Kubernetes clusters, running as a desktop application for Windows, Mac or Linux
According to Mirantis, "Lens eliminates the Kubernetes complexity that has hindered mainstream developer adoption since its inception" – a bold claim, but on point in that complexity is often presented as a downside to working with the container orchestration platform.
Lens was developed by Helsinki-based Kontena, originally as a tool for managing its Kubernetes distribution Pharos, but later expanded to cover "all certified distributions", according to senior engineer Miska Kaipiainen on its release one year ago. Kontena itself was mostly acquired by Mirantis in February this year, but while that deal covered "the entire Kontena team", it appears that a separate deal was required to obtain the rights for Lens.
Lens is an open-source desktop application, under the MIT licence, and runs on Mac, Windows, and Linux. Now at Mirantis, Kaipiainen said that Lens is "a tool for all the people who are working with Kubernetes clusters on a daily basis... providing complete situational awareness of all their clusters, no matter where they are running." He said that work on the product started in 2017, the aim being to make Kubernetes easier to understand for "normal developers".
It started as a web application, but Kaipiainen said that the team realised a year ago that a desktop application was a better fit for developers. It was open-sourced on GitHub in March this year.
Developers typically have many clusters, local, cloud, development, staging and so on; so Lens lets you easily switch between them. No agent is required on the clusters themselves. A built-in terminal gives access to kubectl, the standard command-line tool for Kubernetes, as well as integration with Prometheus for visualising monitoring statistics.
You can also drill into workloads running on each cluster to get information on their state and health. According to the docs, Lens can scale and is "performance optimized to handle massive clusters (tested with a cluster running 25k pods)" – suggesting that it is useful in production as well as during development.
Kaipiainen also promised that Lens will get new features to integrate with Merantis's commercial products. There is a recently introduced extension model, which he hopes other vendors will use to add support for distinctive features of their Kubernetes products. ®