The download page for veteran code wrangler Notepad++ has apparently been blocked by Chinese authorities after its website posted a message in support of those opposing China's so-called national security law.
The message appeared alongside a mid-July "Stand with Hong Kong" release of the editor and, according to the outfit's social media orifice, the download page was banned in China for alleged "illegal content."
Notepad++ is banned in China, obviously due to its #FreeUyghur & #StandWithHongKong edition. pic.twitter.com/uDa8kF6vfz

— Notepad++ (@Notepad_plus) August 16, 2020
"It's after the release of the Stand With Hong Kong edition on the 16th July," developer Don Ho told The Register. "The screenshot I published came from a Twitter user in China on 12 August. I've never been contacted by Chinese government."
First released in 2003, the editor commanded third place in the Stack Overflow survey as recently as 2019, with 30.5 per cent of respondents naming it as their development environment of choice (behind first-placed Visual Studio Code).
The blocking of the download page is unlikely to stop many coders in the People's Republic from finding and using the tool.
Ho has had the odd run-in with activists over the occasional politically themed release of the GPL'd source code editor. Version 7.8.1, released in 2019, was designated the "Free Uyghur Edition" and sparked a tsunami of spam to its GitHub page, and a distributed denial-of-service attack.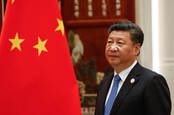 Just take a look at the carnage on Notepad++'s GitHub: 'Free Uyghur' release sparks spam tsunami by pro-Chinese
READ MORE
Other releases noted the mass murder of Charlie Hebdo journalists in France, and version 6.6.4 was dubbed the "Tienanmen June Fourth Incident Edition."
Notepad++ is an impressively lightweight editor for Microsoft Windows. It has stuff like syntax highlighting and limited autocomplete for a variety of languages as well as macro support, a tabbed interface, and split screen editing.
Quite the step up from Notepad.
The arrival of Visual Studio Code has seen its halo slip a little over the years, though Notepad++ remains an essential in the toolbox of many developers. ®
Similar topics