The UK government has performed a massive U-turn on A Level exam results, promising to use teachers' assessments of students instead of the computer-driven system that caused havoc and sparked protests over the past week.
Shortly after furious teens chanted "f**k the algorithm" outside the Department of Education in London this afternoon, the Conservative government announced it would scrap the software-controlled approach that downgraded as many as 40 per cent of students' results, some by an extraordinary three grades.
The algorithmic approach also amplified social divisions by giving an advantage to private schools, due to their smaller class sizes, and disadvantaging state education, in which class sizes are larger. High-performing students in poorly performing schools were at risk of losing university places after they received A Level grades far lower than they expected, whereas private schools saw a significant increase in their student's estimated grades.
The algorithmic system was implemented after examinations were scrapped as a result of the coronavirus outbreak. It's still not entirely clear how the computer model decided on final grades but it is said to have been based mainly on a school's past results and the individual's previous grades.
Teachers and schools were asked to submit grade predictions – known as center-assessed grades – but those grades don't appear to have had much sway in the system, despite them knowing and having taught the pupils. Teacher-decided grades will now form the basis for students' final grades, the government said, in both A Level and GCSE results. GCSEs being subjects kids take typically from ages 14 to 16.
Exams watchdog Ofqual had argued that the algorithm was essential to produce standardized results across the country but the end result, despite being defended for days by the government, was clearly flawed. Hundreds of stories emerged of deeply unfair decisions, many shared on social media, making the issue impossible to ignore.
chants of "fuck the algorithm" as a speaker talks of losing her place at medical school because she was downgraded. pic.twitter.com/P15jpuBscB

— huck (@HUCKmagazine) August 16, 2020
With the same system due to be used for the GCSE exam results this week, with the education secretary Gavin Williamson facing calls for his resignation, and with Ofqual at the business end of a legal challenge over its approach, the powers that be decided it was best to scrap the system than risk even greater protests this weekend. The reverse ferret is too late for many students, however, as universities have already largely assigned places for the coming year.
Williamson issued a statement that he was "sorry for the distress this has caused young people and their parents," and gave an interview in which he said he was "incredibly sorry" for the mess, claiming that over the weekend the education department had looked more closely at the results and concluded that they were indeed unfair.
He still defended the algorithm, however, arguing his department had "worked with Ofqual to construct the fairest possible model." He also backtracked on his policy of the past week that students should use an appeals process to question the grades they were given – something that it was immediately pointed out would still result in people losing their places at universities due to the time such a process would take.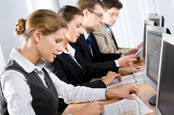 CREST cancels UK infosec accreditation exams after fresh round of 'cheat sheets' are leaked online
READ MORE
"It is clear that the process of allocating grades has resulted in more significant inconsistencies than can be resolved through an appeals process," Williamson said. "We now believe it is better to offer young people and parents certainty by moving to teacher assessed grades for both A and AS level and GCSE results."
The "screeching U-turn," as leader of the opposition Labour Party Sir Keir Starmer put it, comes after Wales said it would revert back to teacher assessments for A Levels, Northern Ireland said it would do the same for GCSEs, and Scotland performed a similar U-turn last week with its school qualifications.
Sir Keir was quick to make political hay out of the mess. "This is a victory for the thousands of young people who have powerfully made their voices heard this past week," he said on Monday.
"However, the Tories' handling of this situation has been a complete fiasco. Incompetence has become this government's watchword, whether that is on schools, testing or care homes. Boris Johnson's failure to lead is holding Britain back." ®