Australian regulator slams Google 'misinformation' in pay-for-news-fight
Picks out porkie about data leakage as left and right unite to protest ad giant's objections
Australia's Competition and Consumer Commission (ACCC) has slammed Google's campaign against the nation's imminent laws that would force it to pay local publishers for linking to their journalism.
Google yesterday published an open letter that criticised the laws on grounds that they could see personal data flow to publishers and perhaps change its products for the worse.
But the ACCC quickly hit back with response that opened by saying "The open letter published by Google today contains misinformation about the draft news media bargaining code which the ACCC would like to address."
The regulator's two corrections were:
"Google will not be required to charge Australians for the use of its free services such as Google Search and YouTube, unless it chooses to do so."
"Google will not be required to share any additional user data with Australian news businesses unless it chooses to do so."
The response went on to point out that the laws and code are currently drafts and that a consultation process is open to anyone, including Google, until August 28th.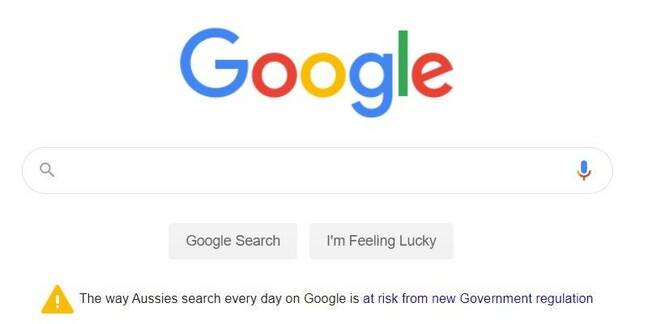 The link to Google's open letter presented to Australian users. Click to enlarge
Google has previously responded to similar schemes by killing off its Google News product, all the while protesting that doing so hurts publishers because the ads and search giant sends so much traffic their way. Australia's laws seek to prevent that tactic by forcing web platforms not to discriminate against local publishers, meaning that if Google linked only to offshore sources of news it would break the law.
Google's arguments have achieved the rare feat of uniting commentators on the left and right of Australian politics. Rupert Murdoch's The Australian has accused the company of interfering in local politics by attempting to spark grass-roots opposition to the code while left-aligned media commentator and campaigner Peter Lewis offered this observation.
Hey google. -By telling porkies about the code you are making the case for an independent media - which is the point of the code you seeking to undermine https://t.co/5DEVI5z3DK

— PeterLewisEMC (@PeterLewisEMC) August 17, 2020
Grab some popcorn because what we have in prospect is a fight between new media – Google – and a government intent on taxing it to fund old media. It will be weeks or months before the shape of that fight emerges, as the ACCC will take time to reveal all submissions to its consultation and then there'll be more drafts and more debate, plus whatever Google has in mind in its hint that it will rouse YouTube to fight by its side.
Google Australia, meanwhile, continues to make its objections known with a link to its arguments appearing on its home page and in search results. ®
Bootnote: The Register is not eligible to receive payment under Australia's plan and reports this story as it is potentially a global precedent for how publishers and web giants interact.