This article is more than 1 year old
Capita: We were juuust about to generate revenue growth and sustainable cash flow – then pandemic stuffed it up
Profits collapse and income slows as virus stymies turnaround plan
Capita, wayward poster child of the UK outsourcing industry, has reported a £28.5m loss in the first half of 2020 as it struggles with the effects of COVID-19 as well as executing a much-needed business turnaround plan.
That's compared to a £31.2m profit for the first half of 2019. Meanwhile, revenue fell by 9 per cent over the same period, down to £1.652bn from £1.815bn.
The first half of 2020 was marked by office closures, working from home and furloughed staff. "This crisis has come in a pivotal year for Capita when we had expectations of beginning to generate revenue growth and sustainable cash flow," said chief exec Jon Lewis, who saw a 70 per cent reduction in the number of shares he was awarded in his 2020 package.
"Instead, we have had to focus on managing our way through the crisis, while accelerating some strategic decisions, including our plan for the disposal of Education Software Solutions, a standalone business in our Software division," he added.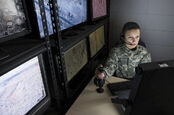 Capita's bespoke British Army recruiting IT cost military 25k applicants after switch-on
READ MORE
In July, Capita laid off 100 of its 370-strong Consulting division as a result of the virus's impact on the economy when it had hoped to expand the team to 450.
In March, the outsourcing firm slashed £25m from planned capital spending in response to the "unprecedented situation" caused by the virus. Coming from restructuring initiatives and "un-committed spending", the cuts were designed to "offset the impact of expected revenue reduction". At the same time, it furloughed a number of employees.
In its report of its latest half-year figures, Capita said it was "fixing underperforming contracts, improving operational delivery and strengthening client relationships, developed further by strong COVID-19 response". It claimed to have saved £73m in a "cost transformation programme".
It said it had cut discretionary spending, such as travel, marketing, training and recruitment, to save £28m. Other staff-related savings reached £25m, including £13m through the furlough scheme. Out of Capita's 294 properties, 168 have been closed since early April. The company said 25 would remain closed.
The outsourcing firm has also been focusing on its "strengths". At the end of June, it sold Eclipse Legal Systems, realising a profit of £42.1m.
The virus-related downturn in the economy has not stopped Capita winning a handful of contracts, though. Earlier this month it secured a £355m Transport for London deal to move systems for the Congestion Charge and the Low and Ultra Low Emission Zones (ULEZ) into the cloud. It has also won a £6.5m deal to connect emergency services control rooms to the UK's troubled Emergency Services Network. ®