This article is more than 1 year old
Pass that Brit guy with the right-hand drive: UK looking into legalising automated lane-keeping systems by 2021
First step to self-driving vehicles on British roads
RoTM Self-driving vehicles have taken a modest step forward towards legality, with the UK's Department for Transport (DfT) launching a Call for Evidence that will determine the safety and efficacy of Automated Lane Keeping Systems (ALKS) with an aim to legalise the technology by spring 2021.
Unlike Tesla's Autopilot system, ALKS aren't concerned with changing lanes and overtaking slow-moving vehicles. Rather, they allow the car to remain within its lane without the driver having to manually adjust the steering wheel every few seconds.
ALKS are ideal for long stretches of motorway driving, where the driver is unlikely to need to change lanes or direction, and will allow the driver to fully delegate their driving to the vehicle itself – although they must be ready to take over when prompted. The government is seeking to permit the technology on roads with speed limits up to 70mph (112kph).
The DfT's Call for Evidence will seek expert input from industry, and will attempt to answer broader philosophical questions, like whether a car using ALKS tech should be classified as an automated vehicle. Although this distinction appears minor, it will help determine who will be regarded as responsible for the car's safety when the system is engaged: the driver, or the technology provider?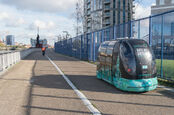 British Level 4 driverless pods are whizzing along ... er, a London path
READ MORE
In a statement, transport minister Rachel Maclean said: "Automated technology could make driving safer, smoother and easier for motorists and the UK should be the first country to see these benefits, attracting manufacturers to develop and test new technologies."
Mike Hawes, CEO of the Society of Motor Manufacturers and Traders, said the technology will help improve overall road safety. "Automated technologies for vehicles, of which automated lane keeping is the latest, will be life-changing, making our journeys safer and smoother than ever before and helping prevent some 47,000 serious accidents and save 3,900 lives over the next decade."
Tools like Tesla's Autopilot are being used on the UK's roads, albeit with the expectation that the driver will be in control at all times.
Anyone flouting that rule will find themselves liable for prosecution as Nottingham man Bhavesh Patel discovered in 2018 after he was caught sitting in the passenger seat of his Telsa while it drove down the M1 motorway completely unmanned. For his efforts – or lack thereof – Patel found himself banned from driving for 18 months, handed a £1,700 fine, and was ordered to perform 100 hours of community service.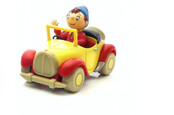 Brit transport pundit Christian Wolmar on why the driverless car is on a 'road to nowhere'
READ MORE
This tentative step also indicates the nascent stage of driverless motoring. Lyft president John Zimmer predicted in 2018 that most car journeys in 2021 would be in driverless cars, heralding the end of private car ownership. Obviously, we're nowhere near that point – and likely won't be for years to come.
It's also suggestive of a broader push from the incumbent DfT leadership to modernise the UK's transport legislation following last month's semi-legalisation of electric scooters. Previously banned on UK streets, the vehicles are now permitted when rented from an approved scheme. Privately owned scooters, however, remain illegal to drive on UK roads. ®