You'd think 1.8bn users a day would be enough for Zuck. But no. Oculus fans must sign up for Facebook
Just imagine how much easier it will be to sell your data... sorry, find, connect, and play with friends
Facebook will force users of its Oculus VR headset to sign up for and log into the antisocial network.
Owners of the virtual-reality goggles have been able to install games and other software in their gear via the Oculus online service, using accounts directly registered with Oculus. That's coming to an end: you'll need to log in via Facebook, not Oculus, if you want to use your device as expected. If you refuse, your apps "may no longer work."
"After January 1, 2023, we will end support for Oculus accounts," an announcement stated today. "If you choose not to merge your accounts at that time, you can continue using your device, but full functionality will require a Facebook account. We will take steps to allow you to keep using content you have purchased, though we expect some games and apps may no longer work."
It went on: "All future unreleased Oculus devices will require a Facebook account, even if you already have an Oculus account."
The personal-data-peddling goliath had a brief go at explaining why it was good thing that people would be required to be logged into a completely unrelated service to play VR games, noting that "giving people a single way to log into Oculus - using their Facebook account and password - will make it easier to find, connect, and play with friends in VR."
It also argued that being required to do so would allow users to make the most of "social VR," which is more of a concept than an actual reality.
"We know that social VR has so much more to offer, and this change will make it possible to integrate many of the features people know and love on Facebook," Facebook-owned Oculus waxed lyrical. "It will also allow us to introduce more Facebook powered multiplayer and social experiences coming soon in VR, like Horizon, where you can explore, play, and create worlds."
Of course, there's nothing to stop Facebook or developers from creating games built around social interaction and using a login to Facebook to drive connections. But the difference is that Facebook is making it compulsory and there is only one reason it's doing that: to continue building up its vast database of personal user data so it can sell it to advertisers.
Put on those goggles
So in addition to knowing all the information you post on Facebook, and all the websites you visit while logged in, and your location if you have the Facebook app installed, the company will now also be able to see what games you play, at what time, who you interact most with, and dozens of other data points that it turns into dollars.
Whereas the main social media service that Facebook offers is free, however, Oculus is far from that. The Rift headset costs $400, the Quest headset $500, and games are more on top. Facebook bought the VR biz for $2bn back in 2014.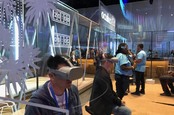 GO on then: Facebook's Oculus to axe its entry-level VR headset
READ MORE
It remains to be seen whether Marck Zuckerberg's Facebook will face similar blowback to when Google announced that all users of its Nest smart home products, which it also bought in 2014 for $3.2bn, would henceforth have to login to their kit via Google accounts, giving the search engine monster access to all their physical whereabouts.
That decision in May last year so infuriated customers that, within two weeks, Google's product director was forced to write a blog post apologizing. It didn't completely stop Google, though, which announced it was putting new requirements on companies that wanted to work with the Nest system and constantly prods Nest-owning holdouts to sign in with a Google account.
Facebook has attempted to avoid some of the backlash by giving existing Oculus users two years leeway. From October, for new users, though, it's a Facebook login or nothing. If there is a silver lining, it comes in the form of Apple and Microsoft. Both of them are working on next-gen AR and VR headsets, and Facebook has just given them a market differentiator: we will respect your privacy, unlike others. ®