This article is more than 1 year old
Samsung slows smartphone upgrade treadmill with promise to support three Android generations on Galaxies
Who needs a new phone when 2018-vintage kit still packs a punch?
Samsung has said it will now deliver three generations of Android to many of its smartphones, a significant shift in policy with the potential to shake up the handset market.
The company currently supports two major Android upgrades, plus extended security updates, across most of its range.
Limiting devices to two of the just-about-annual upgrades to Android means that devices can lag behind new versions of the OS and all the new features they bring well before hardware becomes too decrepit for use.
The entire mobile phone industry doesn't mind this because it puts buyers on an upgrade treadmill that requires roughly biennial purchases, a rhythm that carriers have generally been happy to accommodate with their subsidised handset offers.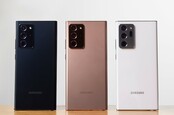 Clue's in the name: Samsung's next Galaxy Note line captures scrawls with responsive stylus then punts them over to a PC
READ MORE
But now Samsung appears to have decided it is happy for consumers to run at a slower pace.
Samsung senior veep and head of software platform team Janghyun Yoon said the policy change represents "a promise that we will provide a simple and secure mobile experience that takes advantage of the latest innovations as soon as they are available."
Why give buyers a reason to upgrade handsets less frequently? Samsung's now delivering solid monthly updates that offer security and functionality upgrades to many Galaxy devices, which is made easier by Google's Project Treble for Android that is designed to make updates easier by loosening coupling between the OS and hardware. Samsung showed it could put it to work when in March 2020 it back-ported news the Galaxy S20's photography features to 2019's Galaxy S10. And at the recent launch of the Galaxy Note20, the company teased software updates that imbue the device with new functions.
The Register surmises that Samsung may have decided that punters will happily hang onto hardware for longer if this stream of software updates mean they still get that new phone feeling.
Or maybe Samsung has recognised that no matter what new hardware it puts into a phone, it's just not a lure given that this year's models don't deliver a massively improved experience compared to the 2018-vintage Galaxy S9's eight-core CPU at 2.7GHz, 4K-capable 12MP main camera and 5.8-inch 2960 x 1440 screen.
Samsung also said that the Galaxy S20 will be the first phone that can run Android 11 when it debuts later in 2020.
Here's the full list of devices that Samsung will support across three Android releases:
Galaxy S series: Galaxy S20 Ultra 5G, S20 Ultra, S20+ 5G, S20+, S20 5G, S20 in addition to S10 5G, S10+, S10, S10e, S10 Lite and upcoming S series devices
Galaxy Note series: Galaxy Note20 Ultra 5G, Note20 Ultra, Note20 5G, Note20, Note10+ 5G, Note10+, Note10 5G, Note10, Note10 Lite and upcoming Note series devices
Galaxy Foldable devices: Galaxy Z Fold2 5G, Z Fold2, Z Flip 5G, Z Flip, Fold 5G, Fold and upcoming Z series devices
Galaxy A series: Galaxy A71 5G, A71, A51 5G, A51, A90 5G and select upcoming A series devices
Tablets: Galaxy Tab S7+ 5G, Tab S7+, Tab S7 5G3, Tab S7, Tab S6 5G4, Tab S6, Tab S6 Lite and upcoming Tab S series devices
®