This article is more than 1 year old
Ed Snowden has raked in $1m+ from speeches – and Uncle Sam wants its cut, specifically, absolutely all of it
How much d'you reckon Trump wants to grant a pardon?
Edward Snowden has brought in a healthy $1.25m in speaking fees ever since he jumped on a plane to Hong Kong with a treasure trove of NSA secrets, a new court filing [PDF] has revealed.
The whistleblower, who exposed mass surveillance of American citizens and foreigners by the US government by handing over top-secret documents to journalists before escaping to Moscow, earns an average of $18,745 per engagement. And Uncle Sam wants it – all of it.
The Feds subpoenaed Snowden's booking agent, American Program Bureau, based in Massachusetts, insisting on a full rundown of engagements it had booked him for. The prosecution has added the list of 67 speeches, complete with fees and clients, to its lawsuit seeking to strip Snowden of any money earned through his actions.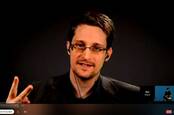 Super-leaker Snowden punts free PDF* of tell-all NSA book with censored parts about China restored, underlined
READ MORE
The engagements cover September 2015 – two years after he fled his NSA contractor job – through to May this year and follows events that crisscrossed the globe, from a speech for $50,000 to Hong Kong-based brokerage firm CLSA to $35,000 at an ad agency in Kuwait, to a range of universities, including some in the United States. Snowden averaged $22,000 a month, before his agent's cut of course, providing the former sysadmin with a healthy salary.
All the speaking engagements were virtual, thanks to the fact that the US government is still desperate to grab him and return him to the US for trial, making any international travel a significant risk to his liberty. The lawsuit is just one effort to keep the pressure on him.
But maybe not for much longer. Last week, President Trump publicly mused about whether he should pardon Snowden, something that, naturally enough, has split the US public, with one side claiming him as brave whistleblowing hero who overturned his life in order to expose illegal spying by the US government on its own people; and the other claiming he is a traitor that should be locked up in jail for the rest of his life for handing over state secrets.
Agent Orange
"I'm going to start looking at it," Trump told reporters about a possible pardon, speaking at a news conference at his golf club in New Jersey a day after he told the New York Post that "there are a lot of people that think that he is not being treated fairly."
Of course, Trump regularly claims to be considering things before doing little if not absolutely nothing, usually when he wishes to distract people from the latest piece of bad news – like, say, nearly 175,000 US coronavirus deaths and efforts to prevent citizens voting by mail.
With the monetary value of Snowden's speaking tours now laid out on the table, it's hard not to imagine that Donald Trump doesn't have a figure in mind.
The US government has already won the right to claim all royalties from Snowden's book and speeches after a district court awarded it all proceeds. The lawyers are now trying to figure out what those sums are.
Snowden has refused formal requests to provide all relevant information about his earnings, resulting in a magistrate deciding that the government can effectively decide what he had earned. His publisher agreed to hand over royalties from his book, although not the advance it paid him to write it.
So what's it to be Ed? A legal battle, the risk of losing it all and having to stay in Moscow; or a cut of your earnings to the reality TV show star who also happens to be president in return for freedom? You may only have three months to decide. ®