This article is more than 1 year old
Someone please have mercy on this poorly Ubuntu parking machine that has been force-fed maudlin autotuned tripe
Failing in Falkirk
Bork!Bork!Bork! What to do when a touchscreen is having a totter? Today's entry in the encyclopaedia of bork features two approaches taken by users, one involving duct tape and a musically inclined alternative.
In a break from the usual examples of Windows suffering a whoopsie, the screens serving the car park of an Asda in Falkirk, Scotland, are running a slightly unhappy Ubuntu by the looks of things.
Eagle-eyed reader Duncan Stewart spotted the scanner sadness last month on a socially distanced trip to the supermarket. Fortunately, he was spared from paying for parking.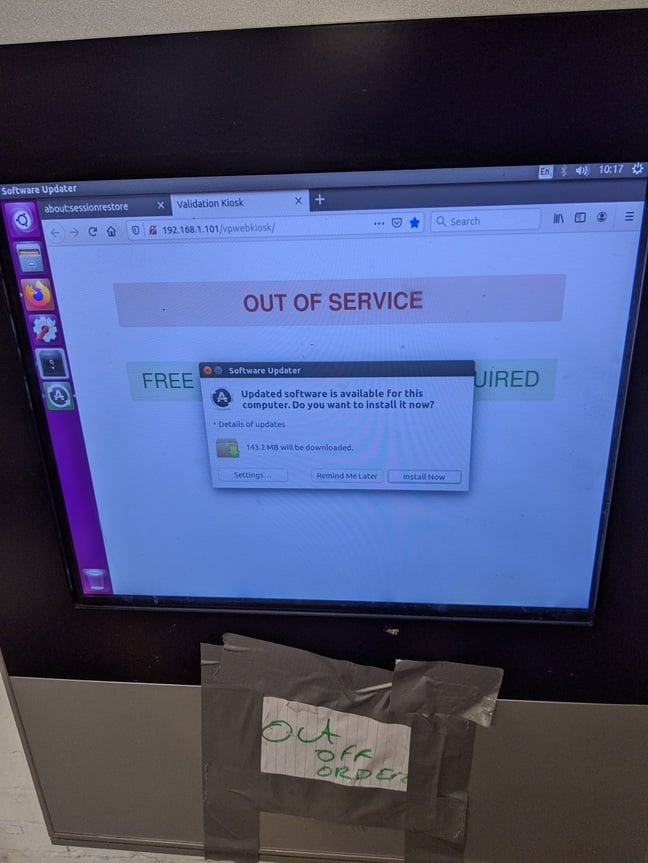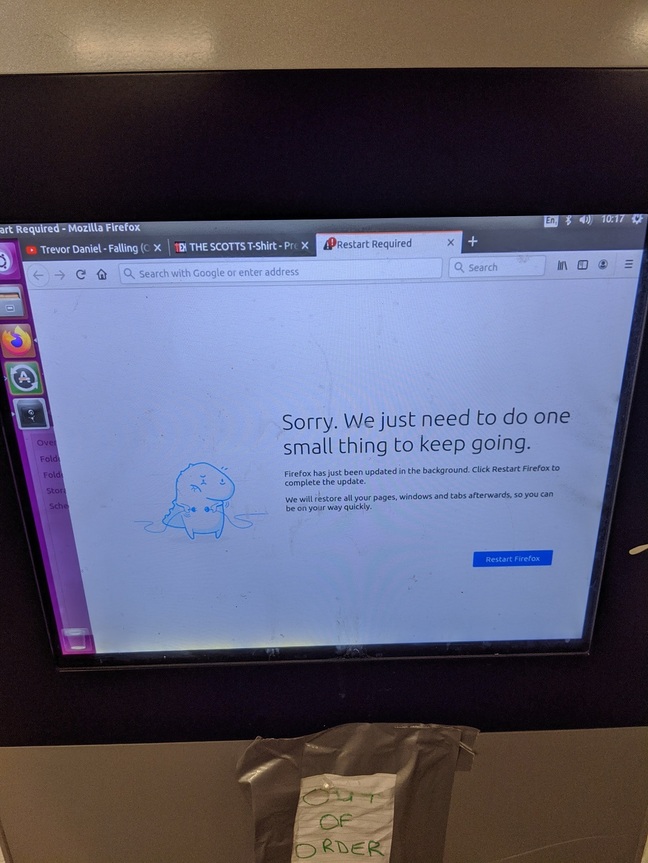 Running in kiosk mode, both screens are out of order, or "OUT OFF ORDER" judging by the duct-taped bit of handwritten paper stuck over where the ticket scanner would normally be.
Spelling error aside (let him who is without sni cast the first stone), it looks to us like Canonical's finest would like an update, but there is nobody around to sate its appetite.
The good news is that the touchscreen appears to still be functional, judging by the antics of a previous user. After all, what better thing to do in the delightful Falkirk weather than fire up YouTube and check out the output of American singer-songwriter Trevor Daniel.
The parking prodder has elected to go for Daniel's seminal 2018 hit, Falling. The track has proven popular judging by the views of the official video on YouTube, even if one of your more musically inclined vultures declared it "maudlin autotuned tripe" before returning to the warm embrace of some terribly loud and shouty metal [Pallbearer actually – ed].
Seems a bit harsh, although we should perhaps be thankful that it was merely the popster on screen rather than what Samsung delicately described as an attempt to view "unsavoury content" following a borkage of one of its oh-so-clever refrigerators at a John Lewis store last year.
Those Falkirk screens, to be frank, look more than crusty enough as it is. ®