This article is more than 1 year old
FCC: Remember that confidential paperwork you gave us, China Telecom? Yeah, well, we're handing it over to the Feds
Chinese telco's pleas to not be booted out of America will be passed to prosecutors
America's comms watchdog will hand over confidential documents on China Telecom to US government officials probing the state-owned communications giant and its operations in the Land of the Free.
Since at least as far back as 2002, China Telecom's American subsidiary has been authorized by Uncle Sam to provide international communications services in the United States. Earlier this year, though, amid escalating trade and diplomatic tensions between America and China, the executive branch of the US government turned the screws on China Telecom.
The Departments of Justice, Homeland Security, Defense, State, and Commerce urged the Federal Communications Commission in April to revoke China Telcom's permission to operate on the grounds of national security: they cited "concerns that China Telecom is vulnerable to exploitation, influence, and control by" the Chinese government, complained of "inaccurate statements by China Telecom to US government authorities about where China Telecom stored its US records, raising questions about who has access to those records, and argued Beijing's spies could use China Telecom's networks to carry out "economic espionage and disruption and misrouting of US communications."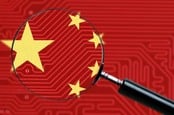 Count how many times the Feds checked Chinese telcos in America weren't spying. Only one hand needed
READ MORE
In response to that pressure, China Telecom submitted confidential paperwork to the FCC arguing why it shouldn't be booted out of the States. The Justice Department swiftly requested a copy of those sensitive filings with the intent to share the documents within the government. Although the telco objected to this disclosure, the FCC has warned the Chinese giant, in a written notice [PDF] this week, that it will give that supposedly private information to Uncle Sam's prosecutors.
The law, the regulator wrote, "does not prohibit the commission from disclosing that information to other federal government agencies where those agencies will continue to keep the information confidential." The FCC also pointed out that the other agencies are on a committee whose job is to monitor the watchdog's handling of China Telecom and thus the committee, including the Dept of Justice, must be allowed to see the confidential info to know the commission is doing its job right.
Given the committee is upset about what it says were "inaccurate statements" by China Telecom to the government, and "inaccurate public representations by China Telecom concerning its cybersecurity," we can only assume the Justice Dept wants to scrutinize the telco's defense of its authorization to operate in the States to build up more ammo against the Chinese provider and Beijing in general.
China Telecom, which has about a week to file another appeal which no doubt will be thoroughly fairly considered, did not respond to a request for comment. ®