This article is more than 1 year old
Backup a sec – is hard drive reliability improving? Annual failure rate from Backblaze comes in at its lowest yet
HGST drives fared best, but vendor was snaffled by Western Digital
Backup specialist Backblaze, which has published hard drive failure statistics quarterly since 2013, says its second-quarter 2020 Annualized Failure Rate (AFR) is the lowest ever recorded at 0.81 per cent overall.
Backblaze had 142,630 hard drives in use at the end of June, across four data centres, ranging in capacity from 4 to 16TB. One of 60 16TB Seagate monsters failed, giving this the highest percentage failure rate, but that may have been bad luck.
What is impressive is that just 22 out of 13,446 12TB HGST (Hitachi Global Storage Technologies) drives failed, suggesting an annual failure rate of 0.65 per cent. The smaller HGST drives fared even better, with 1,000 8TB models showing no failures at all, and the 4TB drives under 0.3 per cent. Before you rush out to buy HGST drives, note that the company was acquired by Western Digital in 2012 and the brand was phased out in 2018.
Backblaze reported that this is the first time it has recorded an AFR under 1 per cent, and that in the same quarter last year the AFR was 1.8 per cent.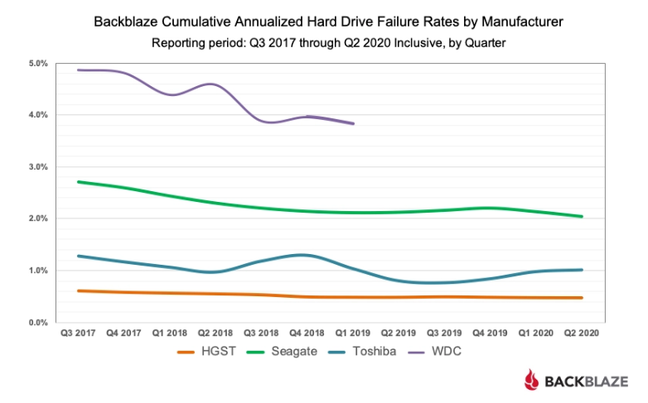 A table of cumulative "drive days" since 2013 shows that drives are typically kept in use for several years so the improved failure rate is not just a matter of using new drives. A Seagate 4TB model, Backblaze said, has "an average age of nearly five years" and are "long past their warranty period". The drive model with the highest average age, a Seagate 6TB drive over five years old, had no failures this quarter.
Disk drives suck less than they did a couple of years ago. Which is nice
READ MORE
"Not all models follow the bathtub curve as they age," the company remarked. The "lifetime AFR", which measures the failure rate overall since 2013, is 1.64 per cent, and has been steadily improving from quarter to quarter – though the company's habit of installing many more drives than it retires may be a factor.
Which manufacturer delivers the most reliable drives? Aside from noting the reliability of the now-unavailable HGST models, Backblaze seems reluctant to draw conclusions. The company has too few Western Digital and Toshiba drives for reliable statistics. Seagate has improved its AFR over the last two quarters after a period of decline. That said, the cumulative stats since 2017 show that HGST was the most reliable, followed by Toshiba, then Seagate (nearly twice as many failures as Toshiba), and bringing up the rear, Western Digital (perhaps explaining why its drives are no longer deployed by Backblaze).
One company's experience with a limited number of models is not enough for reliable statistics, though, and reliability or otherwise of past products is not necessarily a guide for the future. ®