This article is more than 1 year old
Whoa-o BlackBerry, bam-ba-lam: QWERTY phone had a child. 5G thing's newly styled
New licensor's clean-sheet keyboard design better be good, as analyst notes: 'The mobile business has never been harder'
Because 2020 isn't weird enough already, BlackBerry phones are coming back. This time around, it's not Chinese OEM TCL at the helm, but rather little-known Texas startup OnwardMobility, which has acquired a licence to the iconic smartphone marque and plans to release an inaugural model next year.
Little about the phone is known, other than it'll support 5G, include a physical keyboard, and run Android. When probed by El Reg, Peter Franklin, CEO of OnwardMobility, declined to offer any feature specifics, but said the device would use a clean-sheet keyboard created in-house, rather than reuse a design previously used by BlackBerry (formerly RIM) or TCL.
Obviously, that leaves a lot unanswered. It'll certainly be interesting to see whether OnwardMobility retains the most popular features found in later BlackBerry models, like the capacitive coating that allowed users to navigate by swiping on the keyboard.
Sarah Tatsis, BlackBerry VP of Advanced Technology Labs, told us the keyboard design had not yet been finalised, but noted it will "reflect the brand values from a keyboard typing experience and input experience". Any device will also have to meet BlackBerry's internal quality and security requirements, she added.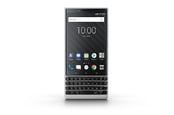 BlackBerry Key2: Clickier, nippier, but how many people still want a QWERTY?
READ MORE
Another question mark hanging over the yet-unnamed device is what form factor it'll take, be that a slider mechanism similar to 2015's BlackBerry Priv, or a more conventional "candy bar" design. While the latter will undoubtedly prove more durable, and will appeal to die-hard QWERTY enthusiasts, a slider mechanism will allow punters to better make use of any display real-estate.
Why 5G?
OnwardMobility has already landed a manufacturing partner in the form of Foxconn subsidiary FIH Mobile. This is familiar territory for Foxconn, noted Franklin, as the Taiwanese tech conglomerate assembled previous generations of BlackBerry devices following a 2013 agreement designed to stem losses at the then-struggling smartphone manufacturer.
"They have experience with keyboards, and they've brought a lot of ideas to the table for the feel of the keys, and the feel of the device in your hand," said Franklin.
OnwardMobility is largely aiming its upcoming product at government and corporate clients who wish to prioritise productivity and security – although it isn't averse to selling the phone to consumers looking for that increasingly elusive physical keyboard experience. Nonetheless, one has to ask: why 5G?
After all, BlackBerry phones have never really been regarded as entertainment powerhouses. Their oddly shaped aspect ratios hardly lend themselves to Netflix binges. And, as someone who owned every BlackBerry model released after 2017, I can definitively say that it's extremely hard to game when there's two-inches of keyboard in the way.
"We see a lot of enterprise experiences being enabled by 5G," said Franklin. "Productivity, along with security, is enabled by 5G in many ways. Your business executive running these mission-critical apps will benefit greatly when you have 10 to 100 times faster speeds with [lower] latency."
It's likely that OnwardMobility will target this new BlackBerry device in the premium "not quite a flagship, but not far off" category.
"Top of mind for us is not just making the most secure and productive device, but also being an everyday device," said Franklin. "That means things like a top-notch camera, and the other specs you'd expect from your day-to-day phone. Simultaneously, we know that we must be competitive, and so is our pricing."
Later BlackBerry phones manufactured and sold by TCL came with a bevvy of the firm's Android apps, covering everything from security and productivity to messaging.
The Register asked Franklin whether that would be the case this time around, although he declined to say. The company chief was also unable to confirm whether the phone would be included in the Android One programme, which guarantees a certain amount of software upgrades and security patches, although noted long-term support was one of OnwardMobility's "top priorities as a company".
Back in BlackBerry
The return of BlackBerry to the mobile sphere will be a welcome sight to some. The Canadian manufacturer all but dominated the smartphone space at the start of the decade, but quickly saw market share haemorrhage in the face of fierce competition from Apple and Google. Efforts to reinvent itself with the BlackBerry 10 operating system, which offered Android compatibility, largely failed to reverse that trend.
A reprieve came in September 2016, when TCL acquired the rights to the BlackBerry brand, ultimately releasing four devices: The Motion, KeyOne, Key2, and Key2 LE. That partnership ended earlier this year, leaving BlackBerry without a global device partner.
BlackBerry has also pursued a regional licensing strategy, which has seen it partner with device manufacturers in regions where it's traditionally performed strongly. That includes BB Merah Putih in Indonesia, and Optiemus Infracom in India.
In this market? 'They're going to need something extraordinary'
Can OnwardMobility restore BlackBerry to greatness? It won't be easy. One factor in their advantage is its executive team, which it said includes a crew with industry-specific experience. Its marketing lead, for example, has worked at the coalface with carriers and device manufacturers.
But, as CCS Insight analyst Ben Wood pointed out, it's a difficult time for the mobile industry, and the halcyon era of BlackBerry dominance is long gone. "The mobile business has never been harder," he said. "Add to that the headwinds of the pandemic, and the fact that the mobile market has dropped 12 per cent year-on-year.
"If you look at the space which you'd expect a BlackBerry device to occupy – which is more around the mid-tier, and not the uber-high tier like the Samsung Galaxy S20 Ultra – it's difficult to see anyone coming in, no matter what the offering is.
"Assuming they're in the £500-£800 space, they're going to facing phones like the iPhone 11, and devices packing six cameras and the latest Qualcomm chipset. That's a very, very tough space, and they're going to need something extraordinary."
Wood also raised questions about whether there was demand for a BlackBerry device. Most people have learned to live with virtual keyboards after all. The muscle memory required to use a proper QWERTY blower has likely long faded. Meanwhile, other manufacturers – most notably Apple and Samsung – have caught up in the security space.
"The addressable market has declined even further than when TCL took over the licence and there was enthusiasm from people still hanging on to their old BlackBerry devices," he said. "There was still that long tail of BlackBerry. Those people have since moved on." ®