Bunch of mugs keep risking life and limb to 'crockery bomb' sad little roundabout
Highways England seems to be losing the war
Right, we know this pandemic has gone on quite long enough, but the boredom-busting activities are getting ridiculous. Can someone explain "crockery bombing" to us?
Fresh from heralding the return of the Turkey Twizzler as a three-metre graven idol, the Eastern Daily Press has brought us word of the phenomenon engulfing the town of Gorleston, literally on the arse end of England (Norfolk).
Centred on a sad little roundabout along the A47, a battle for the ages is unfolding between china (small C) and Highways England. Towards the end of July, assorted tea cups and mugs began appearing in the middle.
No one knows why, but reportedly it got to a stage where there were 40 cups occupying the island, accompanied by a chamber pot and a tea pot.
The agency responsible for maintaining England's highways and byways has stepped up patrols and removed the offending earthenware as and when they see it, though there are lingering safety concerns.
A spokesbeing told the Daily Press at the time: "We're as puzzled as everyone else about the mysterious appearance of the tea cups on the A47 Gorleston roundabout.
"However, placing the tea-cups on a busy roundabout is dangerous; not just for the perpetrator but also for the drivers using the roundabout and our on-road teams who have to remove them."
You'd think such foolish crazes – like "flash mobs" (remember them?) or the vaguely associated "yarn bombing" – would fizzle out, but no, the arms race only seems to be intensifying.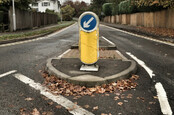 What a load of bollards! Object of bloke's street furniture romp run over
READ MORE
Now a rather robust-looking mug bearing the words "Mr Big" has been erected at the roundabout, sitting proudly atop a plinth all of its own.
Some goon on social media was quoted as saying: "The mugs will win. Next time I'm coming up I'm bringing mugs with me. It's art."
The Register isn't so sure of that, but there have been reports that the local council flipped its wig when residents took it upon themselves to tidy up what is a rather depressing road feature.
Could it be that the phantom crockery bombers are merely trying to draw attention to the fact that it's quite a miserable welcome to another dying seaside town?
Either way, some townsfolks' cupboards must be getting rather bare now, which is strange given England's fixation on tea. ®