What legacy is IBM really shooting for? Cheating its own salespeople out of millions? Here we go again, allegedly
Big Blue insists commission 'adjustments' aren't caps
---
Yet another IBM salesperson has sued the venerable computing biz for allegedly capping their sales commissions after agreeing not to do that.
A lawsuit, filed Wednesday in a US federal district court in San Francisco by security client executive Bruce Reingold, claims Big Blue has committed fraud and violated California law by failing to pay at least $350,000 in promised sales commissions.
IBM pays its salespeople a base salary plus supposedly uncapped commissions – a percentage of the value of deals struck to provide Big Blue's software, hardware, or services to enterprise clients. The idea is to motivate salespeople to secure the largest deals possible by rewarding them in proportion to the value of the transaction.
The complaint [PDF] contends that when commissions are capped, salespeople who have met their quotas may not go the extra mile to close lucrative deals since they won't share in the bounty. It also argues that IBM would have difficulty recruiting talented salespeople if it put artificial limits on earnings.
Until 2018, the complaint explains, IBM used phrases like "earnings opportunities remain uncapped" and "payments uncapped" in PowerPoint materials presented to sales personnel. Company managers are said to have promulgated that belief, both formally and informally.
The complaint also cites another IBM commission dispute in which Maria Lipner, the global head of commissions at IBM, testified under oath that IBM's policy during the period in question was that commissions were uncapped.
Two dozen lawsuits
There have been at least two dozen lawsuits over withheld commission payments, according to Matthew Lee, a partner at Whitfield Bryson & Mason LLP, whose firm represents Reingold and has done the same for other IBM salespeople who have filed similar claims. A separate lawsuit [PDF] contends that between 2013 and 2015, IBM kept $40m in commissions that it had promised to salespeople.
It's not just IBM that stands accused of shortchanging staff. Similar allegations have been leveled against HP/HPE and Oracle.
But the charges against IBM are distinct in that the biz provides salespeople with a contract that isn't a contract. It gives salespeople an Incentive Plan Letter (IPL) that spells out the terms of their compensation even as it considers those terms non-binding: when confronted with legal challenges to its commission payments, the tech titan has insisted that IPLs are not legally enforceable.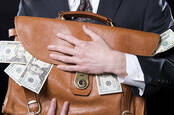 Back from the dead: Appeals court resurrects lawsuit claiming IBM stiffs its own salespeople on commissions
READ MORE
That line of argument has been accepted by US courts in the past though lately has become something of a problem for IBM. The reason is that California law since 2013 has required that employers spell out commission-based wages in a written contract. This has put IBM in the position of arguing that its IPL is enough of a contract to satisfy California Labor Code requirements but not to the extent that its terms are enforceable. Lately, judges haven't found this line of argument particularly compelling.
The Reingold complaint points to testimony from another commission dispute in which Rick Martinotti, an IBM finance manager defending the biz goliath, insisted that references to capping commission in internal emails were a mistake.
"Every adjustment they consider to be a cap, and that's no – you know, a cap is not an adjustment and adjustment is not a cap," Martinotti testified in the cited transcript.
The complaint also suggests that IBM is aware of the problems created by the divergence between its compensation "adjustments" and its statements disavowing caps.
"IBM has even been told by its managers that it cannot continue to make representations like that in light of IBM's actual practices," the complaint says. "One manager, Tom Batthany, wrote an email protesting IBM capping the commissions of a sales representatives he managed, where he says: 'We can no longer have folks stand in the front of the room and say reps make $1 million and there are no caps.'"
In a phone interview with The Register, Lee said his firm has resolved five IBM commission cases. In two of them, the court denied IBM's motion for summary judgement – meaning the cases were strong enough to be allowed to proceed. The other three were settled prior to an order on summary judgement.
Lee expressed surprise that IBM hasn't altered its behavior toward its salespeople in light of recent unfavorable legal decisions. "They haven't changed a bit," he said. "I don't think they've been deterred by the message the courts have given them, which is disappointing."
In a statement emailed to The Register, an IBM spokesperson said, "IBM stands behind its commissions policies and intends to defend itself vigorously in court." ®