This article is more than 1 year old
iFixit horses around with Galaxy Note 20 Ultra 5G to discover glue in abundance
Something to consider if you splash out on Samsung's new hotness
The Galaxy Note20 is Samsung's most ambitious phone in recent memory, with impressive optics and a redeveloped S-Pen experience. But is it easy to repair? The latest teardown from iFixit suggests not, thanks to liberal use of adhesive.
To begin the process, the screwdriver bad boys took off the rear case to expose the camera mechanism, which is large indeed. The Note 20 Ultra 5G has been loaded a 108MP primary sensor, and while each pixel is physically smaller than the equivalent found on the iPhone 11 Pro Max (0.8 micrometers versus 1.4 micrometers), the sensor itself needed to be physically wide in order to accommodate them.
The iFixit crew didn't give the pricey phablet an overall repairability score as it was a preliminary teardown, although they highlighted several areas that would inevitably lose it points – particularly in a head-to-head confrontation with Apple's latest flagship.
Screen repairs of the Note20 promise to be tricky, iFixit said, as one has to effectively disassemble the entire phone in order to get to the touchscreen panel. To its credit, Apple, which isn't exactly known for its approach to user serviceability, has made screen repairs comparatively more straightforward.
Disassembling the Note 20 Ultra 5G wasn't easy either. First iFixit needed to remove the backplate, which required melting a layer of adhesive with a heat gun. Then they needed to delicately remove all the components, from the logic board to the various circuits that handle things like charging.
And then there was the battery, which was glued to the phone chassis. Removing it required iFixit's Taylor Dixon to inject a flood of isopropyl alcohol underneath it before he could remove it from its position.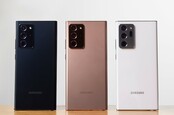 Clue's in the name: Samsung's next Galaxy Note line captures scrawls with responsive stylus then punts them over to a PC
READ MORE
That's hardly ideal. Every lithium-ion battery will eventually fail. Before they reach that point, they'll degrade, offering shorter and shorter lifespans. While these measures were unlikely to confound a trained engineer, they will raise the bar for at-home hobbyists. ®