This article is more than 1 year old
So long, Top Gun... AI software waxes US F-16 pilot's tail 5-0 during virtual dogfight drills
Well, Maverick, you've lost that lovin' feeling and it's gone, gone, gone
Video An AI bot defeated a human pilot in a series of virtual dogfights that unfolded in skies albeit within a flight simulator during a competition held by the US military research arm DARPA.
The fighter pilot battling on behalf of us humans, a US Air Force instructor nicknamed "Banger," struggled to fend off the AI system developed by Heron Systems, a defense contractor with headquarters in California, losing 5-0 in one-on-one virtual combat.
Each player, sat inside a fake, computer-generated F-16 military aircraft, attempted to deplete the other's health bar by shooting bullets while avoiding damage. The battles were part of the final stages of DARPA's Air Combat Evolution (ACE) program, where eight different machine learning agents built by various companies and academic institutions were pitted against each other. The top team, Heron, was then chosen to fight a human pilot.
You can watch the showdown in the video below, and skip to 4:35:55 if you want get straight into the man vs machine matches. It's worth watching.
The Heron aircraft, dubbed Falco, uses deep reinforcement learning agent and took a very aggressive strategy, making it a formidable opponent. Unfortunately, Banger was just no match for the machine. Although the results are promising, don't worry about the idea of killer robot jets just yet, the simulation is far too simplistic to model real war combat.
"Only after human pilots are confident that the AI algorithms are trustworthy in handling bounded, transparent and predictable behaviors will the aerial engagement scenarios increase in difficulty and realism," Lieutenant Colonel Dan Javorsek, ACE program manager, previously said.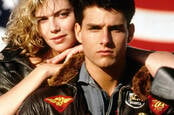 Take my bits awaaaay: DARPA wants to develop AI fighter program to augment human pilots
READ MORE
Heron Systems said their agent had accrued about 30 years of flying experience in training via simulation. It did not reveal too much about its reinforcement learning algorithms, but said Falco was trained using its open source AdeptRL framework. Engineers from the company said they will try to implement their AI software on real drones next.
The goal of ACE is to develop algorithms that can automatically fly aircraft whilst human pilots focus on more complex, strategic functions during battles, rather than simply replacing the military with machines.
Lieutenant Colonel Justin "Glock" Mock, one of the competition's commentators, welcomed the use of AI in the military. "We've got AI that works," he said. "When I'm going down in combat, there is no pride anymore, there is no ego. It is about doing what we need to get done and going back home to our families. ®
Updated to add
For those worried about AI bots coming to kill us all DARPA has issued some reassuring words about how such systems could be deployed.
"Many steps are still required including risk reduction testing on sub-scale aircraft, modifications to the aircraft to accept a third party, full authority flight controller and safety override features that enable the pilot to disengage the system when needed," Colonel Daniel "Animal" Javorsek, head of the ACE program, told The Register.