Highways England primes market for £2bn tech spend as part of massive investment in crumbling roads network
Tender notices cover range of IT needs all the way down to parking meters
The government-owned company responsible for England's motorways has launched two streams of tendering covering nearly £2bn in spending on IT and other digital technologies.
Split into two tranches, the framework agreements launched this week are prior information for the market only, with procurement set to begin in earnest in December.
The information technology commercial framework (ITCF) is set to be worth up to £1bn over four years and runs the gamut of IT hardware, software and services.
On the menu are technology and business change programmes including designing, rolling out, and maintaining "end-to-end solutions". It also requests specialist technical capabilities, services and skills, as well as multi-disciplinary technological professional services specialists. Finally, the prior information notice asks for the delivery of IT products including ongoing support, commodity IT managed services, and commodity IT infrastructure and platform services.
Highways England has not answered The Register's questions about what is behind the investment, but the prior information notice said the spending was necessary "to support the delivery of Highways England's RIS2 [Road Investment Strategy] technology pipeline and to meet the strategic aims of Highways England."
Road building was earmarked as a priority for government investment in the March budget. It confirmed it would put Highways England in charge of an investment strategy worth £27.4bn over the next five years.
The other side of the technology investment relates to operational technologies to do with road building, operation, and maintenance under the umbrella of the operational technology commercial framework.
Worth slightly less than the IT side at £950m, the framework includes mention of biometric sensors; command, control, communication and computer systems; geological and geophysical instruments; and parking meters.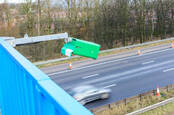 Highways England waves around £62m contract for National Traffic Information Service after brief chat with vendors
READ MORE
The notice said the framework "will deliver projects and services which enable Highways England to operate and monitor the Strategic Road Network. These include support across the design, implementation and commissioning lifecycle of operational technology."
The central government procurement agency, Crown Commercial Services, is working with Highways England on both tender processes. Formal contract notices are expected in December, with contract awards to follow between June and August next year.
But anyone who has endured years of cone-infested commutes might suspect the timetable could be subject to delays.
In May, Highways England launched a separate tender for a £62m National Traffic Information Service to help collect, process and disseminate real-time data and information about traffic on 4,300 miles (6,920km) of road. The agency has not said why it was not included in the larger frameworks. ®