This article is more than 1 year old
India's contact-tracing app grows an API to share health status info with businesses
Users who opt-in will share COVID encounter info with the boss, in the name of returning the economy to a more normal footing
India has created an API service that allows third-parties like employers to access information about their staff gathered by its Aarogya Setu COVID-19-contact-tracing app.
"The Open API Service of can be availed by organizations & business entities, registered in India with 50 + employees, to query the Aarogya Setu Application in real-time and get health status of employees or other Aarogya Setu Users, who have given their consent for the same," says a Tweet from the app's account."
The intent of the API appears to be informing an organisation if people it comes into contact with represent a health risk and should therefore be excluded. India's government has billed the API as "a novel feature to help the people, businesses and the economy to return to normalcy."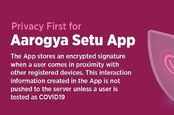 India said its coronavirus contact-tracing app is perfect... adds bug bounty and open-sources it anyway
READ MORE
The Register understands that the API will only track exposure to COVID-19 cases and app users' own health status. The API is not public and can only be accessed by an organisation after a request is approved by Indian authorities. Even once an organisation is permitted to use the API, it will only be able to access data about Aarogya Setu users that opt-in to share data.
"In order to help businesses and economy to start functioning while being safe, the Open API Service enables organizations to check the status of Aarogya Setu and integrate it into its various Work from Home features," says the government announcement of the API. "The Open API Service of Aarogya Setu, addresses the fear/risk of Covid-19 infections and help the people, businesses and the economy to return to normalcy."
A developer portal detailing the API is not responsive at the time of writing, but Indian outlet MediaNama has been able to access the documentation is offers and reports that it will permit third-part apps to access data after government approval, prohibits any use associated with advertising or marketing, prohibits charging for services that use the API and makes it illegal to deny services if users don't opt in to data-sharing.
Aarogya Setu launches its 'Open API Service' - with the objective of facilitating businesses & organisations to check Aarogya Setu status of employees & other users with their consent. More details on https://t.co/TlpC6Y8Buf @GoI_MeitY @NICMeity @MoHFW_INDIA #SetuMeraBodyguard pic.twitter.com/PlEJfFiU6v

— Aarogya Setu (@SetuAarogya) August 23, 2020
While India has released source code for Aarogya Setu, the nation has shown no interest in adopting widely-adopted contact-tracing tools like the Google/Apple model or Singapore' TraceTogether protocol. The latter on Friday issued a tender for more Bluetooth-packing wearable contact-tracing devices. ®