This article is more than 1 year old
Microsoft sides with Epic over Apple developer ban, supports motion for temporary restraining order
'Apple's discontinuation of Epic's ability to develop and support Unreal Engine for iOS or macOS will harm game creators and gamers,' says Microsoft
Microsoft's Kevin Gammill, general manager of Gaming Developer Experiences, called Epic's Unreal Engine "critical technology" in a filing at the weekend [PDF] in support of Epic's motion for a temporary restraining order to prevent Apple from terminating its developer account.
Referring to the statement, Xbox supremo Phil Spencer tweeted yesterday to say "ensuring that Epic has access to the latest Apple technology is the right thing for gamer developers and gamers."
Gammill's argument is that Unreal Engine, a cross-platform runtime and development environment, is "critical technology for numerous game creators including Microsoft", and that "there are few other options available for creators to license with as many features and as much functionality as Unreal Engine."
"If Unreal Engine cannot support games for iOS or macOS, Microsoft would be required to choose between abandoning its customers and potential customers on the iOS and macOS platforms or choosing a different game engine when preparing to develop new games," said Gammill in the filing. He added that it would also harm those with games in "later stages of development" using Unreal Engine, and already-launched games for which Unreal Engine could no longer be updated or receive security patches.
The troubles between Apple and Epic erupted mid-August: The games developer created a promotion called Fortnite Mega Drop that let players buy in-game virtual currency and in-game items directly from Epic at 20 per cent below the iOS Apple Store in-app price. This violated Section 3.11 of Apple's App Store guidelines.
Apple immediately kicked Fortnite from the iOS App Store, and Epic responded in a lawsuit claiming the iGiant was abusing its dominant position by seeking to "control markets, block competition, and stifle innovation".
In retaliation, Apple argued [PDF] last week that "the 'emergency' [was] entirely of Epic's own making. Epic's agreements with Apple expressly spell out that if an app developer violates the rules of the App Store or the license for development tools — both of which apply and are enforced equally to all developers large and small — Apple will stop working with that developer."
Microsoft's declaration does not attempt to rebut any of Apple's arguments, but only makes the point that the spat with Epic has consequences for itself and other companies.
Epic refers to this issue in its own notice of motion [PDF] for a temporary restraining order - filed on Monday last week - saying that without access to Apple's developer program, "Epic cannot develop future versions of the Unreal Engine for use on iOS or macOS. Developers that intend to sell their apps for use on iOS or macOS devices will have to forgo the Unreal Engine in favor of other engines. The effects will reverberate well beyond video games; it will affect developers who use the Unreal Engine on Apple products in many fields."
Epic portrayed itself in the complaint as challenging "Apple's monopolistic conduct", alleging that the licensing terms for the developer program and App Store are unlawful because of "Apple's tying of the App Store and IAP [In-App Purchase]."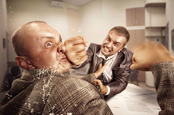 Apple hits back at Epic, says Fortnite crew wants a 'free ride' on fees: Let the app store death match commence
READ MORE
Miguel de Icaza, an open source veteran who is now a Distinguished Engineer at Microsoft working on Xamarin cross-platform development tools, claimed that since Unreal Engine licensees get access to the source code, there is another option which Gammill could have mentioned, that "companies would have to pay to maintain and extend UnrealEngine on their own." This, he said, would be "a lot cheaper" than the other options and "also creates jobs."
The case overall is important because it addresses the question of what is and is not reasonable for an operating system vendor to require of developers who create applications for its platform. See our earlier coverage here and here. ®