So... just 'Good' then? KFC pulls Finger Lickin' slogan while pandemic rumbles on
We're sure readers can think of a suitable replacement
---
Poll Savvy battered bird flinger KFC has made sure no one will forget its greasy wares during the coronavirus pandemic by ditching its Finger Lickin' slogan.
Addressing fast food fans, a YouTube video published yesterday (below) implored: "That thing we always say? Ignore it. For now."
The clip shows KFC packaging and advertising through the ages with that crucial nugget blurred out, rendering the phrase as the infinitely underwhelming "It's... Good!" – though we suspect many will take issue with the claim.
The full proverb will remain on actual packaging in branches.
But what's the problem? Back in March, when the COVID-19 ball was really starting to roll in the UK, viewers cried fowl over a TV spot by the fried chicken merchant, complaining to the Advertising Standards Authority 163 times that it "could encourage the spread of coronavirus".
OK, but it's not like you're sucking on someone else's finger, and your grubby paws have already been all over the chicken. If you didn't wash your mitts before tucking in, yes, you're clucked – finger lickin' or not.
Although the ASA did not investigate because KFC voluntarily pulled the ads, the complaints seem to have struck a nerve.
"We find ourselves in a unique situation – having an iconic slogan that doesn't quite fit in the current environment," said Catherine Tan-Gillespie, global chief marketing officer at KFC.
"While we are pausing the use of It's Finger Lickin' Good, rest assured the food craved by so many people around the world isn't changing one bit."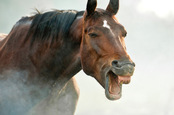 Bloke rolls up to KFC drive-thru riding horse-drawn cart only to be told: Neigh
READ MORE
According to The Sun, the change is global, affecting the UK, Netherlands, South Africa and Canada, parts of Asia, the Middle East and North Africa.
Kate Wall, head of advertising at KFC UK and Ireland, chimed in: "People often say that it's the second movie that's hardest to get right. The follow up, the next step. And we are facing the same conundrum at the moment. How do you follow a slogan that's lasted for 64 years and is as iconic as ours?
"Well, we know we can do it with a little help from our friends. And you'll be hearing more from us on this soon."
Hear that, "friends"? KFC needs your help! Here are some we made earlier in the poll below, but feel free to let your creative juices run like mayo from a Zinger Tower Burger in the comments.
We've put our suggestions to KFC so await their response eagerly. On the other hand, they may never speak to us again. ®