Adobe yanks freebie Creative Cloud offer – now universities and colleges have to put up or shut up
Students taking creative subjects will get preference as lockdown licences few and far between
Universities are on the hook for a massive hike in Adobe licensing costs unless they restrict use to students in creative subjects, techies in Further and Higher Education circles have told us.
The move comes in the wake of COVID-19 and the subsequent lockdown, which highlighted that some institutions had bought licences that only allowed students to access Creative Cloud desktop applications on campus via a university or college-owned lab device, a use change that didn't escape the attention of the American software biz.
There were two licence types commonly sold in Britain: ETLA 2018 allows full time employees in FE and HE to work via Creative Cloud wherever they want and grants free access to students on campus provided they use a device owned by the college or university. The second licence, the Student ETLA, allows students to work on-site or at home.
"We always had the option to buy licences for students to use on their own devices, but most organisations didn't buy those licences because it was too expensive and licensing terms [of ETLA 2018] allowed students to use a university owned device on site," said one senior director of IT at a university who asked to remain anonymous.
Adobe applied a sticking plaster from March to May that allowed students across Europe who were out of compliance with the licence to continue using the software at home for free. This was extended by Adobe again until July.
A further reprieve was granted and the freebie then ran until 14 August. In a statement sent out by UCISA – the UK's member-led professional body for digital practitioners within education – in July, it confirmed that the extension was agreed "as a result of lobbying from UCISA".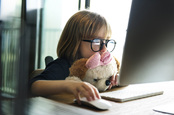 Adobe about to pull the plug on Creative Cloud freebie 'at-home' access for students
READ MORE
A letter to members from UCISA stated: "If you have previously signed up for the Adobe COVID response for Education, your students' free COVID19 student home use licences should continue to work, with no action required on your part.
"This is a very specific extension for the UK and Adobe has asked that this be regarded as confidential to UK institutions," the letter added.
Then Adobe's generosity ended in the middle of this month. Now FE and HE establishments have to pay more for student licences, in addition to ones for staff, or be a lot more focused and buy licences for students where Creative Cloud is integral to their studies.
Sources at universities we contacted said they had been forced to opt for the latter option because the alternative was simply too expensive. In some cases, the cost of licensing estates to include students off-campus would have more than doubled.
"Universities where Adobe is not core will get a lot more focused," one person we spoke to told The Register. "And this means Adobe, which wants to be at the centre of all academic delivery, is forcing us to license just for creative students and that means all the others – the majority – cannot have access."
Colleges have better options, should they not already have a subscription licence with Adobe. One college techie said: "Luckily for us the Sixth Form Colleges Association very recently finished negotiations with Adobe and announced Sixth Form Colleges would have access to Adobe K12 pricing, which is significantly cheaper than Higher Ed pricing... I believe the new deal basically means any institution teaching Level 3 qualifications (A-Levels/BTEC etc) can access K12."
According to the Higher Education Statistics Authority there were more than 1.798 million undergraduates in Further and Higher Education in 2018/19 across the UK, and 181,000 were undergraduates in core creative arts.
Bulk seats
The minimum number of ETLA Student licences that can be bought by universities is 500, we are told, and it then rises to 1,000 and 5,000. The Register will not specify the costs or number of licences bought by each of the unis that we contacted.
The techies we spoke to also acknowledged that Adobe had been fair in extending the free offer but reiterated its licensing policy for education was at odds with the vendor's wider ambitions.
Adobe sent us a statement: "Serving the needs of students and the education community has always been critical in how we enable creativity for all, and this commitment is unwavering."
"We continue to support educational institutions by offering additional discounted purchasing and migration options for their students, to ensure they have access to Adobe Creative Cloud products for blended and remote learning. We're pleased that many institutions continue to embrace digital learning and digital literacy as a skill for the future."
UCISA also sent us a statement to say it was able to "agree a solution" that let students finish their studies for the previous academic year.
"Since that time UCISA, Jisc and Adobe have been working together to deliver a solution for institutions to help them better manage student licences in the short term by extending the period discounted software can be purchased and adding more value to those institutions that sign up to the scheme. Longer term, all parties are committed to devising a solution that will hopefully put Adobe software in the hands of as many students as possible."
The current Adobe ETLA agreement expires in August 2021 and the Student ETLA agreement expires a year later. Jisc will be negotiating the next wave of discounts. ®