This article is more than 1 year old
Keeping them for a rainy day? Arm decides against spinning off cloudy IoT businesses to parent Softbank – report
Right as the Japanese mega-corp seeks to flog the Brit CPU design house
Arm has apparently decided against spinning off two of its Internet-of-Things businesses to its owner Softbank just as Softbank chairman Masayoshi Son searches high and low for someone to buy the British chip designer.
"We are proposing to transfer ownership of Pelion IoT Platform and Treasure Data to Softbank," an Arm spokesperson told The Register in early July, referring to its Pelion internet-of-things management cloud and enterprise information wrangler Treasure Data.
By mid-July, Softbank was reportedly considering selling off Arm, which it snapped up for $32bn in 2016.
Now, Arm has seemingly changed its mind on lopping off Pelion and Treasure Data. The separation, due to complete by the end of September, will reportedly not be going ahead after all, according to the Wall Street Journal on Tuesday.
Pelion is essential a rebranded Mbed Cloud, which is Arm's universal platform for remotely provisioning, accessing, controlling, and updating network-connected devices, be they smart home gear or weather sensors out in the field or equipment in offices. Treasure Data was an acquisition from 2018.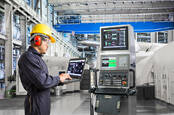 Brit software biz Aveva stumps up $5bn for OSIsoft as Softbank cashes out
READ MORE
By giving up its IoT businesses to Softbank, Arm CEO Simon Segars had hoped his organization could focus on its "core IP roadmap," ie: designing better chip blueprints. It's said Pelion and Treasure Data will remain distinct from Arm's processor design efforts.
Arm's future looks super uncertain. Nvidia is reportedly interested in acquiring the company, allowing the graphics processor giant to fully control its own GPUs and CPUs at once, which may help it drill deeper into certain markets, such as the data center and high-performance computing.
Arm's not the only investment Softbank is looking to cash out. On Tuesday, the Softbank-backed OSIsoft was sold to its rivals Aveva for $5bn. ®