Provided the UK government can provide the requisite "fiscal stimulus" to keep corporate Britain ticking over, the COVID-19 crisis can be viewed as ripe fruit there for the plucking.
At least that's how IBM – in the sort of inglorious way that many companies view the global pandemic – has described the outlook in its latest results filed for calendar 2019 at Companies House in the United Kingdom.
This is a "rapidly developing situation", said Big Blue of the principal risks facing its business, "which sees us entering uncharted territory and has an indeterminable length and impact.
"The overall demand for services, software and systems changes will be dependent on whether the fiscal stimulus provided by the UK Government is enough to prevent the UK economy entering a period of recession in second half of 2020."
IBM said it is "well placed" to react to the conditions with a spread of long-term contractual income streams in addition to more transactional sales.
"The crisis also presents an opportunity for the company, for example, data-enabled healthcare initiatives, scalable digital business models, reinventing e-commerce and also enabling and accelerating digital collaboration," it added.
UK.gov imposed a lockdown for all but those deemed essential workers from 23 March onwards and provided financial assistance to businesses by subsidising furloughs (a Job Retention Scheme) until the end of October. The government said this protected 7.5 million workers and one million firms.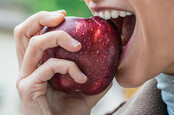 Apple was the only Fortune 50 company to foresee COVID-19 pandemic risk and properly insure against it – Forrester
READ MORE
What happens after this period in the autumn has yet to be confirmed. The Bank of England warned earlier this year that COVID-19 could force the local economy into the fastest, deepest recession since the "Great Frost" of 1709.
GDP fell by 2.2 per cent from January to March and a record 20.4 per cent for April to June, according to the Office for National Statistics. UK unemployment is forecast to rise to 9 per cent in 2021 and there are fears of a spike in bankruptcies and the ripple effect this may cause.
Andrew Bailey, governor of the Bank of England, said this month: "There are some very hard yards – to borrow a rugby phrase – to come, and frankly we are ready to act should [it] be needed."
The actions could include negative interest rates that will force banks to deposit money with the central bank, meaning they will have more incentive to lend to citizens and businesses.
Brexit means..
Much of this is out of the hands of IBM, or AWS, or any of the sprawling city-sized employers in the tech industry. Lest we forget, Britain is facing another potential metaphorical mountain in the shape of Brexit.
IBM said that during the transition period, the UK and the EU will pursue an agreement on future trading relationships and though the outcome of this remains uncertain, any decision will "not materially interrupt business."
That said, IBM confirmed it has "taken the prudent step of making contingency plans to deal with a scenario in which there is not a comprehensive agreement at the end of the transition period."
As for its 2019 financial numbers, IBM grew revenue 1.8 per cent to £3.894bn, the second consecutive year they have gone up following a dip in 2017. Hardware sales fell to £157.7m from £185.8m in the prior year, software went up to £693.4m from £667.9m, and services leaped to £2.324bn from £2.256bn.
The Register asked IBM what fuelled UK growth because the accounts did not really give any specific hints. A spokesperson said "all published information on our financial accounts can be found at Companies House, we do not comment any further."
The average monthly number of employees across the year was 10,955, down from 11,297 in the prior year. The reduction was felt most acutely in services and marketing, the accounts confirm, going from 9,207 to 8,883. Some 118 roles went from the product development team to 2,072.
IBM this year put almost 1,300 of UK services people at risk of redundancy, asking them to leave voluntarily. When the requisite amount didn't put their hand up, IBM began a compulsory redundancy process that was due to end this month.
The cost of revenues to IBM went up by more than £90m on the prior year to £3.677bn, leaving IBM with a gross profit of £160.7m versus £143.7m. Finance costs, impairment of investments and income from investments left IBM with a profit before tax of £57.7m, down 49 per cent year-on-year. IBM paid tax of £12.2m to bank £45.5m. In 2018 it got a £9m tax credit to net £123.4m. ®