This article is more than 1 year old
Palantir: Never made a profit, we do something with family-separating ICE, we just lost $580m – please join our IPO
S-1 filing slams Silicon Valley as the real privacy-invading spies, too
Reclusive data analytics outfit Palantir has filed to go public, giving a small glimmer of insight into the highly secretive company and its finances, or lack of them.
Palantir carries out information analysis and processing work for the defense and intelligence communities, often creating bespoke solutions such as digital profiling tools for organizations like the CIA and ICE, America's family-separating border agents. Its S-1 filing reveals the business continues to make more than half its revenue from government contracts, despite a big effort to expand the commercial side of its operations. It also acknowledged it works for "organizations whose products or activities are or are perceived to be harmful," which sparks negative coverage and sentiment.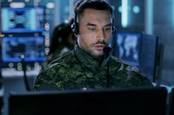 FYI: You do all know that America's tech giants, even Google, supply IT to the US military, right?
READ MORE
It also reveals that it has never made a profit in its 17 years of existence and lost $580m in 2019 on revenue of $743m. The "good news" is while it lost the exact same amount in 2018, $580m, its sales in 2019 were up 25 per cent. This makes the traditional boilerplate statement, "we expect our operating expenses to increase, and we may not become profitable in the future," seem ominously prophetic.
Palantir structured the IPO with the use of multiple-class shares. Co-founders Peter Thiel and Alexander Karp, also Palantir's CEO, as well as company president Stephen Cohen will retain 49.999999 per cent of the total voting stock, meaning every single shareholder would have to act in concert to outvote them on a corporate decision.
Despite the huge losses, the Silicon Valley company's execs are unafraid of paying themselves massive salaries: Karp took over $12m in salary and stock options last year; while Cohen received $16m and its COO Shyam Sankar $26m.
We're fighting terrorists!
In the filing, Karp defended the company from accusations of amoral behavior by arguing that its software "is used to target terrorists and to keep soldiers safe" while other companies (cough, cough, Google and Facebook) are focused on selling data on and to everyone.
"Software projects with our nation's defense and intelligence agencies, whose missions are to keep us safe, have become controversial, while companies built on advertising dollars are commonplace," he continued. "For many consumer internet companies, our thoughts and inclinations, behaviors and browsing habits, are the product for sale. The slogans and marketing of many of the Valley's largest technology firms attempt to obscure this simple fact."
As for Peter Thiel, he made a fortune, like Elon Musk, by being a founder of PayPal and then being an early investor in Facebook. He's worth over $2bn. While Musk has used his money to create outfits like SpaceX and Tesla, however, Thiel has used his seemingly to create a loss-making company that serves the darkest impulses of the US government. Then there was the retaliatory destruction of online tabloid Gawker and the whole blood thing.
The business itself is named after the "seeing stones" in fantasy novels The Lord of the Rings that allowed people to see across huge distances and communicate. Palantir has applied to be listed on the New York Stock Exchange under ticker symbol "PLTR" and filed to go public via a direct listing, meaning it will not raise new capital.
It has two software platforms, one for government agencies and the other for businesses. It is thought that the company wants the money to be able to develop more generic analytics software than can be sold more broadly rather than the custom installs it currently does. Then, the theory goes, it might actually make money. ®