This article is more than 1 year old
Facebook apologizes to users, businesses for Apple's monstrous efforts to protect its customers' privacy
New iOS update will rob people of personalized ads, wails antisocial giant
Facebook has apologized to its users and advertisers for being forced to respect people's privacy in an upcoming update to Apple's mobile operating system – and promised it will do its best to invade their privacy on other platforms.
The antisocial network that makes almost all of its revenue from building a vast, constantly updated database of netizens that it then sells access to, is upset that iOS 14, due out next month, will require apps to ask users for permission before Facebook grabs data from their phones.
"This is not a change we want to make, but unfortunately Apple's updates to iOS14 have forced this decision," the behemoth bemoans before thinking the unthinkable: that it may have to end its most intrusive analytics engine for iPhone and iPad users.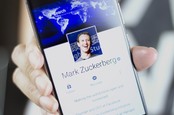 You'd think 1.8bn users a day would be enough for Zuck. But no. Oculus fans must sign up for Facebook
READ MORE
"We know this may severely impact publishers' ability to monetize through Audience Network on iOS 14, and, despite our best efforts, may render Audience Network so ineffective on iOS 14 that it may not make sense to offer it on iOS 14 in the future."
Amazingly, despite Facebook pointing out to Apple that it is tearing away people's right to have their privacy invaded in order to receive ads for products they might want, Cupertino continues to push ahead anyway.
The result is potentially horrifying. "While it's difficult to quantify the impact to publishers and developers at this point with so many unknowns, in testing we've seen more than a 50 per cent drop in Audience Network publisher revenue when personalization was removed from mobile app ad install campaigns," Facebook warns.
And who's to blame? Not Facebook that's for sure. While it promises that it is "working on short-and long-term strategies to support publishers through these changes," it feels obliged to point out that it is Apple that "will hurt many of our developers and publishers at an already difficult time for businesses… Many of these are small businesses that depend on ads to support their livelihood."
Internal data is always correct
It's hard to imagine how Tim Cook sleeps at night knowing that he is purposely ruining people's lives by not allowing Facebook to sell people's personal data to help mom-and-pop stores. And Facebook is nothing if not generous, pointing out that "in 2019 we paid out billions of dollars" – according to "Facebook internal data."
That's right, Facebook paid out some "billions" of its 71 billion dollars of revenues in 2019 for a reason it didn't quite have time to elaborate on. So, shut up, Facebook is the good guy, OK? And Apple, which runs a rival advertising platform, is wrong to stand in the way of this.
Facebook wants advertisers to know however that it has their back. It will continue to suck as much information as possible off every other device and through every other operating system.
Unfortunately, however, it will require them to set up a completely new advertising account to run campaigns for iOS users, because it's not going to apply Apple's new privacy protection measures any further than it has to. Again, though, this is Apple's fault, not Facebook's. Apple made the changes.
Facebook closes out by promising that it will do all it can to prevent user privacy from being respected in future. "We believe that industry consultation is critical for changes to platform policies, as these updates have a far-reaching impact on the developer ecosystem," it said.
"We're encouraged by conversations and efforts already taking place in the industry - including within the World Wide Web Consortium (W3C) and the recently announced Partnership for Responsible Addressable Media (PRAM). We look forward to continuing to engage with these industry groups to get this right for people and small businesses." ®