This article is more than 1 year old
Google wants to listen in to whatever you get up to in hotel rooms
Disrupting clock radios and concierges with plan to let Nest Hub devices take orders for fresh towels
Google wants its Nest Hub to become a fixture in hotel rooms so that guests can enjoy their stay without having to actually touch any of the amenities they are paying for.
The device, which is being piloted in several hotels across the US and the UK, offers guests the chance to replace calls to hotel staff with a Hub device that listens in on requests for more towels or information about pool closing times.
Google's sell for the new "hospitality solution" is that it allows guests can use the hotel's amenities without having to speak to another actual human being or touch the room's potentially plague-ridden telephone. "Whatever reason is driving you to consider staying in a hotel room, you know you want to take as many precautions as possible," wrote Tom Franklin, product manager for Google Assistant, in a blog post.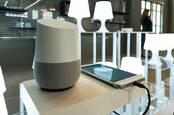 Whoops, our bad, we may have 'accidentally' let Google Home devices record your every word, sound – oops
READ MORE
For those worried about Google Assistant listening in on whatever it is they get up to in hotel rooms, Google says the device has no camera and its mic can be switched off. "No audio is ever stored, and any activities will be wiped from the device when it's reset for the next guest," Franklin promised.
The new features are largely hotel-centric tweaks to existing Google Assistant functions, which the company promises can be connected to in-room entertainment devices or even control the room's blinds, TV, and lights.
Google also suggests the devices could be used to replace a concierge by offering recommendations and bookings for local restaurants.
Unless hotels add their own content, one assumes that this data for hotel recommendations and the like will be scraped from Google Maps. In which case, a smartphone will provide exactly the results without all the hullabaloo. ®