This article is more than 1 year old
NetApp reorg: Plans to 'scale public cloud', grow storage systems biz as company sheds hundreds of staffers
Q1 beat analysts' expectations
NetApp boss George Kurian has confirmed a guidance-beating 5 per cent revenue jump for Q1 of its fiscal '21 – while also admitting to chopping the same percentage of staff in layoffs, as first revealed yesterday by The Register.
The CEO said cuts had been made in areas "not particularly aligned to our go-forward priorities" and confirmed staffers at scale-out, all-flash storage platform SolidFire were among those hit, noting a shift by the company to core enterprise usage.
"We are narrowing our focus with the SolidFire and HCI portfolio to the high-margin parts of the market," said Kurian.
In an 8-K form filed with the US Securities and Exchange Commission, NetApp discussed the "headcount reduction" (layoffs to you and me) and talked up a reorganisation plan that focuses on storage software and systems, and public cloud:
On August 25, 2020, NetApp committed to a restructuring plan to optimize its business and fund its biggest opportunities including returning to growth in storage software and systems and scaling the public cloud services business...
In connection with the restructuring plan, the Company expects to reduce its worldwide headcount by approximately 5 per cent. This reduction in workforce will be implemented throughout fiscal 2021.
NetApp employs 11,000 people worldwide, so 550 roles will be expunged.
Kurian, twin brother to Google Cloud's Thomas, reported sales for Q1 of 2021 ended 31 July of $1.3bn [PDF], up 5 per cent year-on-year and mostly off the back of maintenance contracts. Net income was down to $77m from $103m the year before.
According to the CEO, a lot of the revenue upswing for the three months could be attributed to helping customers shift their applications to the cloud during an apparent pandemic hybrid cloud push.
Drilling down into the reporting units, Product revenues were down 3 per cent year-on-year to $627m. Possibly to support its new reorg focus, NetApp decided to break out Product revenues for the first time this quarter - into hardware and software - to "provide improved visibility into the value created by our high-margin software franchise". Hardware made up $316m of Product (with lower disk sales than the previous year) and Software made up $311m, up 2 per cent as all-flash ONTAP revenues rose.
Software Maintenance climbed to $301m from $250m a year ago, as Hardware Maintenance and Other services went from $342m to $375m.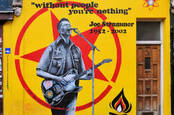 Tariffs, don't like it. Rock the AFA, rock the AFA: NetApp's all-flash sales crash hits top-line stats
READ MORE
CFO Mike Berry said: "Public cloud services delivered an impressive $178m in ARR (Annual Recurring Revenue), growing 192 per cent year over year." Three new acquisitions – Spot, CloudJumper, and Talon – accounted for $44m of this.
Berry also talked up all-flash revenues, which were up 34 per cent year-on-year to $567m. He said a quarter of NetApp's installed base was "now in all-flash".
Kurian noted: "The substitution of on-prem workloads to the public cloud was the smallest part of the growth of our overall cloud business. We are seeing the use of cloud increasingly for disaster protection and business continuance purposes. We've had several wins during the quarter where customers combined our on-premise all-flash array business with a flexible disaster protection copy in the cloud."
The CEO added that NetApp was looking for a return to growth on the "file, block and object software" front. Back in June analyst firm IDC noted in its global enterprise external OEM storage systems market tracker that NetApp's shipments revenue for calendar Q1 had fallen by a fifth year-on-year to $715.7m.
NetApp said it expects to incur aggregate charges of approximately $35m to $40m for employee terminations and other costs associated with the restructuring plan. The company forecast revenues of $1.225bn to $1.375bn for Q2 of its fiscal 2021. ®