This article is more than 1 year old
Nutanix CEO and co-founder Dheeraj Pandey to step down
New $750m investment from Bain and strong revenue means he reckons the time is right
+Comment Nutanix has announced co-founder Dheeraj Pandey will retire from his chief executive role once a replacement has been found.
On the IT goliath's quarterly earnings call on Thursday, Pandey said that growing the company "meant putting everything else in life on the back-burner."
Lockdown gave him time to reflect.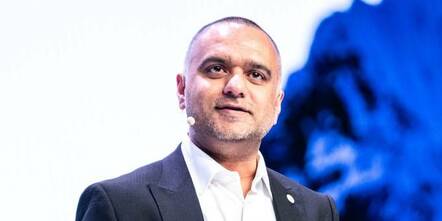 Outgoing Nutanix CEO Dheeraj Pandey
"I concluded I need to spend more time with my family, read, write, learn new domains," he added.
The announcement of Pandey's departure quotes the man himself saying: "I would like to thank the Nutanix Board of Directors and management team for their support of my decision," further suggesting he's jumping rather than being pushed.
That Pandey has been busy as CEO is evident in two other Nutanix announcements. One reveals that Bain Capital Private Equity will invest $750 million in the company, the other that the company won $327.9 million in its fourth quarter and clocked full-year revenue of $1.31 billion. The Q4 figure was up nine percent year-on-year and the full-year number was a six percent bump.
The company had 17,360 end-customers on its books at the end of the quarter, won 88 percent of billings as subscriptions and grew that source of revenue by 29 percent year-over-year.
Pandey therefore told investors he feels the company is ready for a new leader. "There is no better time for a CEO succession plan than now to really shepherd the company through the next decade of growth," he said.
Reflecting on his time at the company, Pandey said that when Nutanix was founded iOS, virtualisation for purposes other than test and development workloads and web-scale infrastructure running on commodity hardware were all "novel concepts in the enterprise".
Today they're all utterly accepted, a transition that fills him with pride. Pandey said he thinks Nutanix has led that change of perception and will now champion "invisible IT."
The earnings call offered the usual listing of new wins, of which there were plenty, and the very nicest numbers the company could find.
But the Bain deal was of most interest to analysts in attendance because it will see the private equity firm take a seat on Nutanix's board and could be dilutive.
Pandey and Nutanix CFO Dustin Williams explained that the deal makes sense because company needs cash and help to complete its transition to subscriptions and to hybrid cloud. Williams explained that Nutanix sold $2.2bn of subscriptions, but has effectively not renewed them. While the cost of renewals is expected to be far lower than the investment required to win new business or upsell customers, the company is moving its accounting metrics from total contract value (TCV) to annual contract value (ACV).
The deal is structured so that Bain will see a return on its investment if Nutanix's share price rises, but Williams was at pains to say: "This is not a cost-cutting exercise, this is about scaling up the company in an efficient manner.
"Now we have a partner that is going to help us through the transition. We are very fortunate to have someone step up."
News of Pandey's departure elicited many sad-but-appreciative Tweets from staffers.
You motivated us, took tough decisions to build such a great company & supported us above all, you are a true inspiration Sir. Good luck and thank you 🙏

— Sandeep (@svuzzini) August 28, 2020
@dheeraj - Congratulations on your Successful tenure with @nutanix. You have made it big - Damn Big. We look forward to your presence with the India Startup CEOs in India. Systems need you :) #GOAT.

— Gaurav Joshi (@gauravjoshi46) August 28, 2020
Comment
Nutanix is the most important enterprise technology startup of the last decade. Whether it invented hyperconverged infrastructure doesn't matter. That it successfully championed it does, because it has spurred waves of innovation in virtualisation and software-defined storage that benefit us all. That every major enterprise vendor followed it into hyperconverged infrastructure, many of them with rather less success than Nutanix, bespeaks the scale of the company's and Pandey's significance.
Your humble hack last met Pandey in early 2015, when in what I am sure was a complete co-incidence the Indian ex-pat came to meet customers and staff in Australia at the same time as the Cricket World Cup. Pandey had managed to secure tickets to the India vs. Pakistan grudge match. Which we mention as he recently tweeted about his love of the game. The Register hopes he has more time to spend in the stands once he finishes up at Nutanix... ®
The marathon that Cricket is. 5 days of trials and tribulations. Eagerly awaiting sports to be what sports used to be: exhilarating! pic.twitter.com/MUgDdEpEtN

— Dheeraj Pandey (@dheeraj) August 15, 2020